Setting the Pace
A world-class track and field facility giving athletes—including the UO's outstanding student-athletes—an unparalleled stage, while giving fans a theater for track, with comfortable seats, in-stadium amenities, amazing sight lines and intimacy to competition.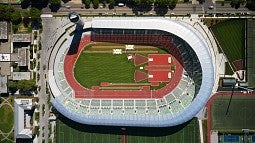 Hayward Field Unboxing
After two years away from their home facility, the Ducks returned
to Hayward Field at the University of Oregon for a first look
at their new, re-imagined home. 
Hayward Field
"A World-Class Track and Field Facility"
Hayward Field at the University of Oregon weaves its way into the campus fabric in a host of ways.
The fans who pack the stands and roar in support of the world's best athletes will still be right on top of the action; only, now they will enjoy unobstructed views from every one of the spacious seats in an arena that visually represents the state of Oregon.
Runners, jumpers, and throwers hoping to add to the 20 world records set at Hayward Field will enjoy state-of-the-art locker rooms, practice spaces, and athletic medicine rooms. Students and researchers in the Department of Human Physiology will make groundbreaking discoveries in new laboratory and classroom spaces.
"A new facility will add to the mystique, the motivation, of what's next for the university and the program."
—Raevyn Rogers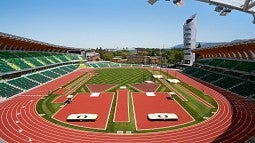 NCAA tabs UO, Hayward Field to host 2024-2027 Track and Field Championships
Hayward Field at the University of Oregon will now serve as the host site for six of the next seven NCAA Division I Outdoor Track and Field Championships from 2024 through 2027.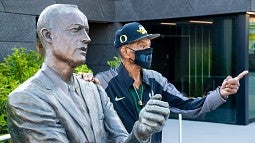 Hayward welcomes UO First Olympic Gold Medalist
The newly remodeled Hayward Field includes a nine-floor tower with individual floors honoring the Ducks' eight Olympic gold medalists, of which Otis Davis became the first by winning the 400 meters in Rome on Sept. 6, 1960.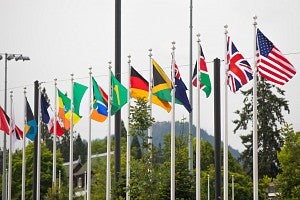 Celebrating Global Excellence
In a show of its international impact, the flags of 156 countries will wave at Hayward Field which signifies the number of nations represented in senior-level competition at the world-renowned facility.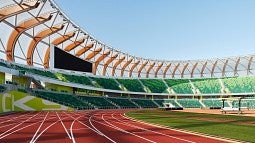 Hayward Field Renovation
Fact Sheet
Construction Starts: Summer 2018
Completion: 2020
Architects: SRG of Portland
General Contractor: Hoffman Construction
Funding: Fully funded by gifts from Penny and Phil Knight and more than 50 other donors
Capacity: 12,650 permanent seats; expandable to 25,000
"...as much as we love tradition, you have to go forward and I'm excited about the future."
—Matt Centrowitz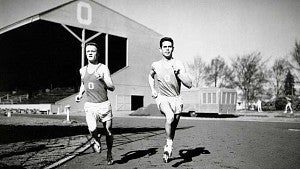 Hayward Field History
In its 100-year history, Hayward Field has become the nation's most storied track and field venue.
"It's like a mixture between the Bird's Nest and the Rose Bowl. It's awesome."
—Devon Allen