Setting the Pace
A world-class track and field facility giving athletes—including the UO's outstanding student-athletes—an unparalleled stage, while giving fans a theater for track, with comfortable seats, in-stadium amenities, amazing sight lines and intimacy to competition.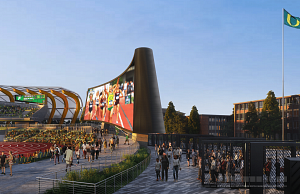 The Hayward Experience
Scheduled for completion in the summer of 2022, the Visual Experience Board will be 60 feet tall by 160 feet long and will be on an arc between the existing concourse ramp and the northern gates. The design of the board takes queues from the existing stadium's scale and materiality while the board's swooping form is meant to exude speed and fluidity. The board will showcase roughly 5,080 square-feet of video screen, making it the largest permanent video screen for a track and field stadium in the country. In addition to the screen, the north side of the board will feature a perforated metal image of legendary UO coach Bill Hayward, blending past and present and serving as a welcoming gesture to fans arriving from Powell Plaza.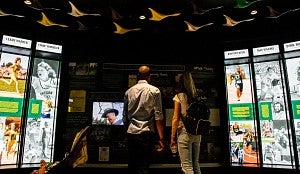 Celebrate the UO's Legacy at Hayward Hall
With a history as rich and full of tradition as Oregon cross country and track and field, the stories of achievement and moments of celebration are endless and ongoing.
The resurrection of the newly imagined Hayward Field at the University of Oregon has allowed for all that history and all those stories—a lot of them, anyway—to occupy one spot.
That spot is Hayward Hall. Currently closed until Feb. 1, but normally open Tuesday through Friday from 10 a.m. to 4 p.m. (6 p.m. on Friday's before home football games). Questions? Email haywardhall@uoregon.edu. 
Marking 100 years
of Hayward Field
In this panel discussion from the 100 year anniversary of the track at Hayward Field, May 14, 2021, Paul Swangard, Hayward Field announcer, Todd Van Horne, who served as creative director and visual branding lead on Hayward Field, Jeff Yrazabal, SRG Partnership design principal/architect, discuss the Hayward Field fan experience with season ticket holders.
"The fans are Hayward Field and
they bring that Hayward Field magic here."
Video tour highlights the world-class home
of UO Track and Field.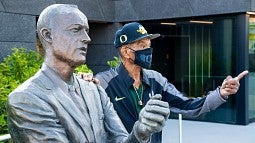 Hayward welcomes UO First Olympic Gold Medalist
The newly remodeled Hayward Field includes a nine-floor tower with individual floors honoring the Ducks' eight Olympic gold medalists, of which Otis Davis became the first by winning the 400 meters in Rome on Sept. 6, 1960.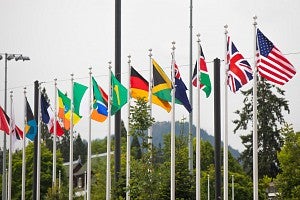 Celebrating Global Excellence
In a show of its international impact, the flags of 156 countries will wave at Hayward Field which signifies the number of nations represented in senior-level competition at the world-renowned facility.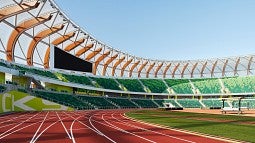 Hayward Field
Fact Sheet
Construction Start: Summer 2018
Completion: 2020
Architects: SRG of Portland
General Contractor: Hoffman Construction
Funding: Fully funded by gifts from Penny and Phil Knight and more than 50 other donors
Capacity: 12,650 permanent seats; expandable to 25,000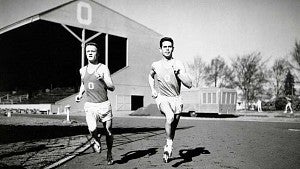 Hayward Field History
In its 100-year history, Hayward Field has become the nation's most storied track and field venue.
"It's like a mixture between the Bird's Nest and the Rose Bowl. It's awesome."
—Devon Allen