But First There Was Otis
The Ducks' first-ever Olympic gold medalist celebrated landmark achievements at Hayward Field
This fall marked the 60th anniversary of Otis Davis becoming Oregon track and field's first Olympic gold medalist and he returned for a three-day visit to Eugene that included a tour of Hayward Field on the University of Oregon campus.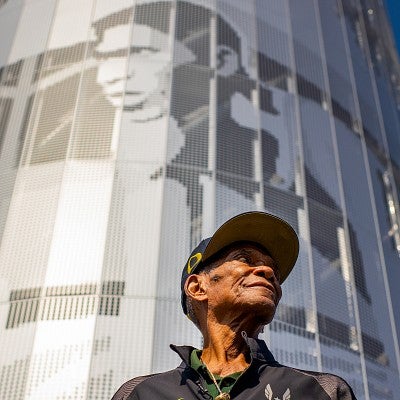 The newly remodeled Hayward Field includes a nine-floor tower with individual floors honoring the Ducks' eight Olympic gold medalists, of which Davis became the first by winning the 400 meters in Rome on Sept. 6, 1960. Davis is also one of the five icons from the program's history depicted on the exterior of the tower, along with Bill Bowerman and an unnamed athlete, Ashton Eaton, Steve Prefontaine and Raevyn Rogers.
 
Davis arrived in Eugene this fall, and got his first look at the new facility.
 
"I said, 'Who is that handsome guy?'" said Davis, 88, a resident of New Jersey. "I didn't know I looked that good. I'm just glad they thought of me in that way to put me up there. It seems like they all recognize me now."After arriving at Oregon on a basketball scholarship, the native of Alabama joined the track and field program under the legendary Bowerman after Davis saw a workout from his dormitory window and thought he could be competitive. He had only run a handful of races when he won gold in Rome, first in the 400 and two days later with the 4x400 relay.
 
"I figured I was going to be able to do something," Davis recalled during his weekend visit, during an interview in the shadow of the tower bearing his image. "But naturally, I didn't think it would come close to this."
 
In telling the program's extensive story within Hayward Field on the UO campus, the first eight floors of the 10-story tower feature images of the Ducks' Olympic gold medalists beginning with Davis at ground level. Each Olympic champion is displayed in the tower stairwell.
 
Along with Davis, that exclusive list also features Mac Wilkins (1976), Joaquim Cruz (1984), Keshia Baker (2012), Ashton Eaton (2012, '16), Matthew Centrowitz Jr. (2016), Phyllis Francis (2016) and English Gardner (2016).
 
Davis said during his visit that, when he stood on the medal stand in Rome, he thought about growing up in segregated Alabama, and how proud his grandmother would have been to see him. He voiced support for the ongoing racial justice protests across the country, as the fight for equality continues.
 
"Segregation, it didn't stop me," Davis said. "Because I always believed I could be something."
 
When Davis crossed the finish line just ahead of Germany's Carl Kaufmann in the 400-meter final at the 1960 Rome Olympics, not only had he won gold but he did so with a new world record of 44.9, becoming the first man in history to dip below the 45-second mark in the event.
Davis and Kaufmann were well clear of the rest of the field as they approached the line, and the photo finish didn't offer any immediate answer to who had won the race. To Davis, though, it was obvious.
 
"I knew I had won," Davis said of the finish with Kaufmann. "They were the only ones that didn't know … those up there in the booth.
 
"By the way, I look at (the replay) every time because I know I'm going to win."
 
Davis went on to win his second gold medal of the Games two days later as the anchor leg of the United States' victorious 4x400-meter relay. He teamed with Jack Yerman, Earl Young and 400-meter hurdles gold medalist Glenn Davis to posting a winning time of 3:02.2, another world record.
 
For more than 50 years, Davis was Oregon's only two-time Olympic champion, a feat later matched by Eaton when he won his second Olympic decathlon gold medal at the 2016 Rio Games. Now, they are two of the UO legends depicted on the tower at Hayward Field.
 
"The best thing any of us can have is peace of mind," Davis said. "I've got peace of mind. And I'm getting it more and more." 
"By the way, I look at (the replay) every time because I know I'm going to win."
— Otis Davis, 2-time Olympic Gold Medalist
1960 Rome Olympics