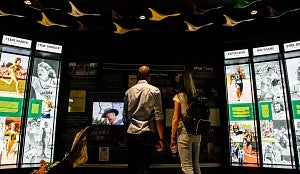 Celebrate the UO's Legacy at Hayward Hall
With a history as rich and full of tradition as Oregon cross country and track and field, the stories of achievement and moments of celebration are endless and ongoing.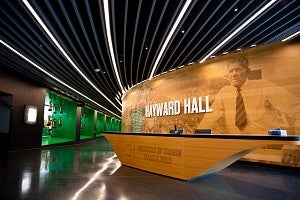 The resurrection of the newly imagined Hayward Field at the University of Oregon has allowed for all that history and all those stories—a lot of them, anyway—to occupy one spot.
That spot is Hayward Hall.
Located at the base of the tower, Hayward Hall is a 4,000 square-foot interactive space that extends along the east side of the stadium underneath the lower bowl of seating. Even the exterior of Hayward Hall begins to tell part of the story with historic program figures displayed in the windows along Agate Street.
Inside Hayward Hall, a wall of sliding doors offer a view of the track from the competition level. Those sliding doors lead out to a viewing area from the trackside near the typical start of the 200 meters.
Among the featured exhibits at Hayward Hall:
Welcome to Hayward Field Exhibit which shares facts about Hayward Field and highlights upcoming events.
The Bill Bowerman workshop detailing his work as an innovator in the sport of track and field
Display cases featuring 32 NCAA Championship, 25 NCAA runner-up and 51 conference trophies and the program's history with the Bowerman award
Video and interactive spaces celebrating UO cross country and track and field, and the innovation born of the program and Hayward Field
Oregon Coaches Exhibit with a timeline with biographical information dedicated to each of the head coaches in program history
Theater showing feature films and documentaries of Oregon Track and Field
Oregon Track and Field and Cross Country Athletes Exhibit
History of Oregon Track and Field Exhibit showcasing the partnership with Nike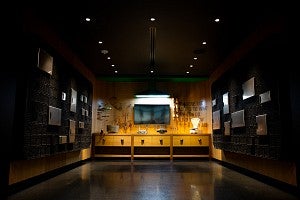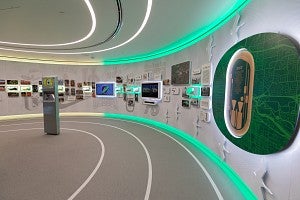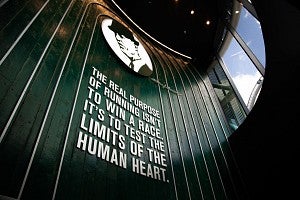 Many items salvaged from Historic Hayward Field were incorporated into the new facility showcasing the rich heritage of the original stadium through graphics and signage, as well as exhibits in Hayward Hall. The seats in the theater are from the "presidential box" at Historic Hayward Field where Coach Bowerman would give his Men of Oregon pep talks to his teams. Speaking of seats, the wood used to display a quote from Coach Bowerman near the elevators may look familiar, as well.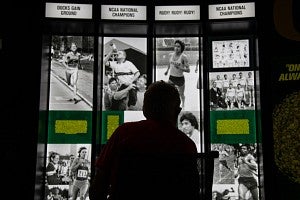 The University of Oregon made a collection of remaining salvaged materials available to benefit the community. An advisory committee comprised of campus and community stakeholders reviewed a variety of proposals and approved 18 projects.
With the digital nature of many of the displays, Hayward Hall will continue to add new names, new records and new layers to the ever-growing history of the program.
The stories told inside Hayward Hall aren't the complete history of Oregon cross country and track and field…they're just the beginning.
Hayward Hall will be open to the public this fall. Details will be available soon.