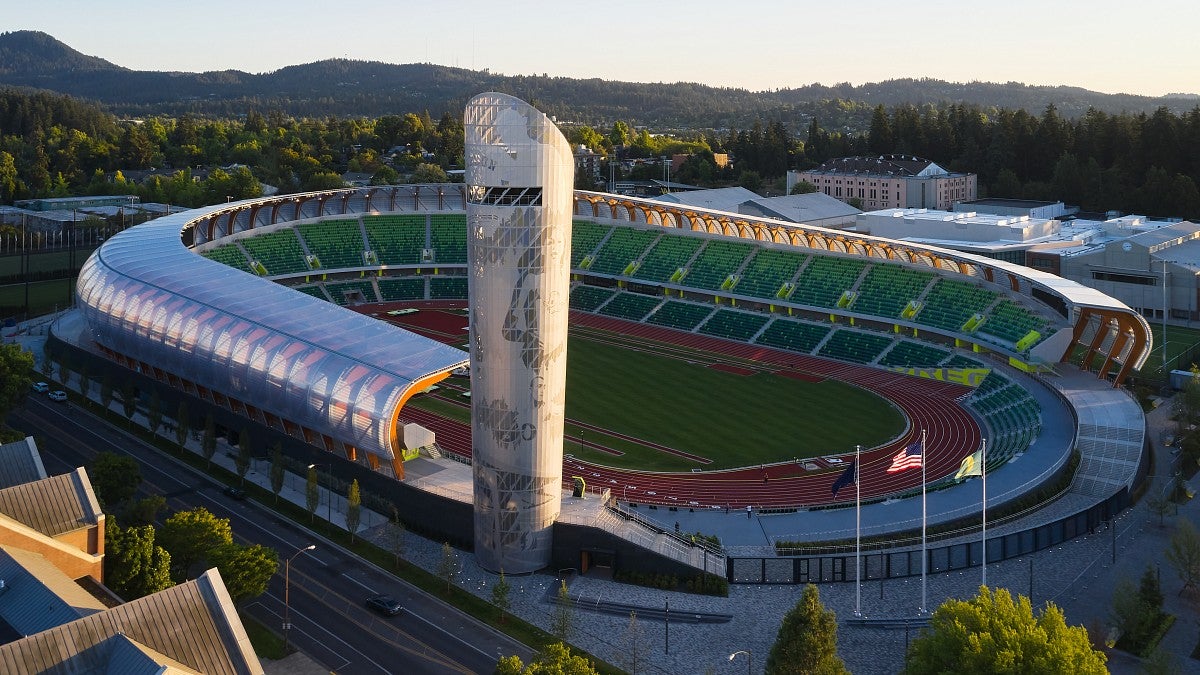 Celebrating Our History
The Hayward Field tower helps tell the story of the first
100 years of Oregon Track and Field
The 10-story Hayward Field Tower pays tribute to the University of Oregon legacy with graphics depicting five Oregon track and field icons. 
Along with legendary coach Bill Bowerman, the tower depicts Steve Prefontaine, Raevyn Rogers, Ashton Eaton and Otis Davis.
"The tower is an incredible showcase of our program's history. It's something fans, the community and our student-athletes can be proud of.

It's an honor to be part of the impact these individuals have made to our sport and Oregon track and field."
—Robert Johnson, UO Head Track and Field Coach
Bowerman served as the UO head coach (1948-72), won four NCAA team titles; and was co-founder of Nike. Prefontaine was a seven-time NCAA champion and broke 14 American records during his career. Rogers is a six-time NCAA champion and the 2017 winner of The Bowerman award, the highest honor bestowed to collegiate track and field's most outstanding athletes of the year. Eaton is a five-time NCAA champion, two-time Olympic gold medalist; and 2010 winner of The Bowerman. Davis is a two-time 1960 Olympics gold medalist, winning the 400 meters and anchoring the 4x400-meter relay with world records in both events.
"When you see a glimpse of the stadium, you'll know by the silhouette of that tower, this is Hayward Field, home of Oregon track and field."
— Nike creative director Todd Van Horne
The 10-story-tall landmark aligns with the east stands and features a lobby filled with interpretive exhibits, an observation deck and viewing areas. The observation deck is located on the level just under the crown, which features Bowerman and the unnamed athlete. The tower will also include office space for the UO track and field coaching staff.
The tower is one of the many ways designers honor athletes and coaches of Oregon track and field within in the new stadium, which features many faces and moments throughout, honoring the past and inspiring the future.
A Legacy of Excellence
Standing 10 stories and 188 feet, 8 inches tall, the Tower at Hayward Field depicts images of five icons who have helped define the UO's legacy. This impressive collection of track and field greats includes 22 NCAA Championships, four Olympic Gold medals, and two Bowerman Award recipients. We invite the UO community to take pictures of the tower images as they emerge and share their fondest memories on social media using the hashtag #UOHayward.
53
CONFERENCE CHAMPIONSHIPS
2
BOWERMAN AWARD RECIPIENTS
Signature Moments
Five UO track and field icons have been selected to grace panels on the tower at Hayward Field, honoring UO greats and inspiring the next generation of university excellence. The new facility will pay tribute to many more athletes and special moments and throughout the stadium, as well. 
Bill Bowerman
Years coached: 1948-1972
Championships won: 4 NCAA Championships, 38 Conference Championships
Hometown: Fossil, Oregon
Bill Bowerman was a man of many titles: Olympic head coach, Nike founder, U.S. Army major, Oregon track and field head coach, inventor — the list could go on and on. The recurring theme was his restless innovation and unchecked passion for sport.
Bowerman (born Feb. 19, 1911) graduated from the University of Oregon in 1935 and began his coaching career in football, spending one year at Franklin High School in Portland. He then moved back to the city where he attended high school, Medford, coaching track for nine years and football for seven years.
In 1948, the former UO football and track letter winner returned to Eugene, and soon after he took over as head coach of the track and field program. Bowerman's 'Men of Oregon' won 24 NCAA individual titles (with wins in 15 of the 19 events contested) and four NCAA team crowns (1962-64-65-70), and posted 16 top-10 NCAA finishes in his 24 years as head coach. His teams also boasted 33 Olympians, 38 conference champions and 64 All-Americans. At the dual level, the Ducks posted a 114-20 record and went undefeated in 10 seasons. At the Olympic level, he served as head coach of the U.S. team in 1972 and an assistant coach in 1968.
In a show of his lasting legacy, The Bowerman was established ahead of the 2008-09 season and has since been awarded each season to the most outstanding male and female NCAA track and field athletes in the country. Five Ducks have won The Bowerman, a list of UO greats that include Galen Rupp (2009), Ashton Eaton (2010), Laura Roesler (2014), Jenna Prandini (2015) and Raevyn Rogers (2017).
As an inventor, Bowerman was equally renowned for his waffle-iron shoe soles that remain popular today, as well as his method of recycling old athletic shoes into surfacing for tracks. Bowerman co-founded Nike, with Phil Knight, BBA '59. Bowerman served as Knight's coach, teacher, mentor, business partner, and teammate in a never-ending pursuit of excellence.
Bowerman helped shaped track and field and running in general for generations of athletes. He helped launch the U.S. running boom. After a 1962 trip to New Zealand, he introduced the idea of jogging to the masses, and even assigned his Duck athletes as mentors and coaches to local citizens. His 1967 book "Jogging" sold more than a million copies.
Bowerman's legacy as an outspoken leader was also forged off the track. He enlisted in the Army soon after the United States entered World War II, and was a combat major of the 10th Mountain Division in the Italian Alps, earning a Silver Star and four Bronze Stars. He later ran for state representative, following the lead of his father, Jay, who served as interim governor in 1910. 
In retirement, Bowerman stayed true to his roots. The Fossil, Ore., native resided in his Eugene home in the Coburg Hills, and stayed in the news with occasional advice on how to keep the sport vibrant. When nominated for the National Track and Field Hall of Fame in 1981, he declined, stating that until Bill Hayward was elected, Bowerman himself didn't deserve to be included.
Before passing away on Christmas Eve 1999, Bowerman returned to Fossil, the eastern Oregon town his great grandfather founded in 1867, to close the last chapter of a legacy that will never be matched.
- Rob Moseley, UO Athletics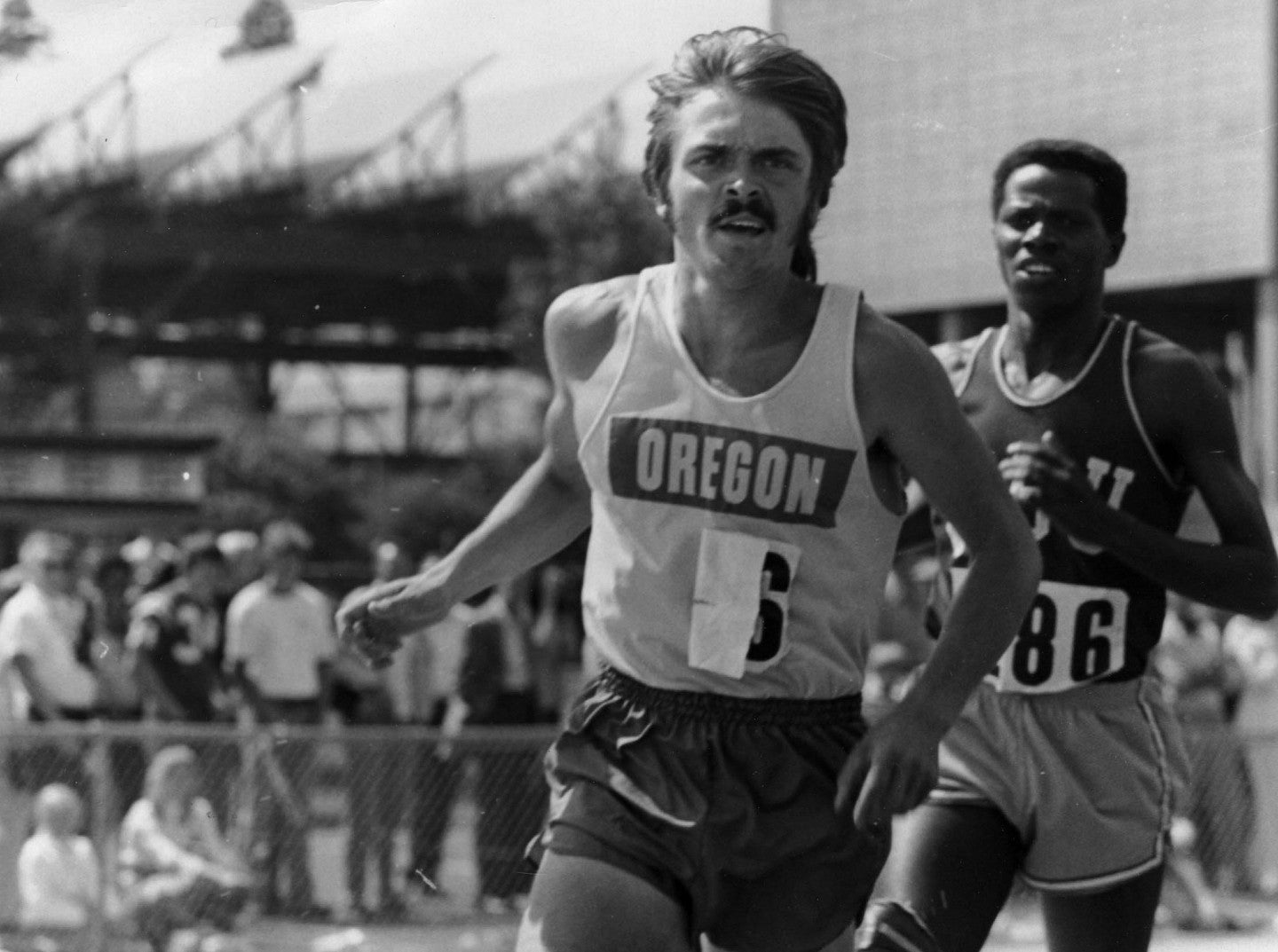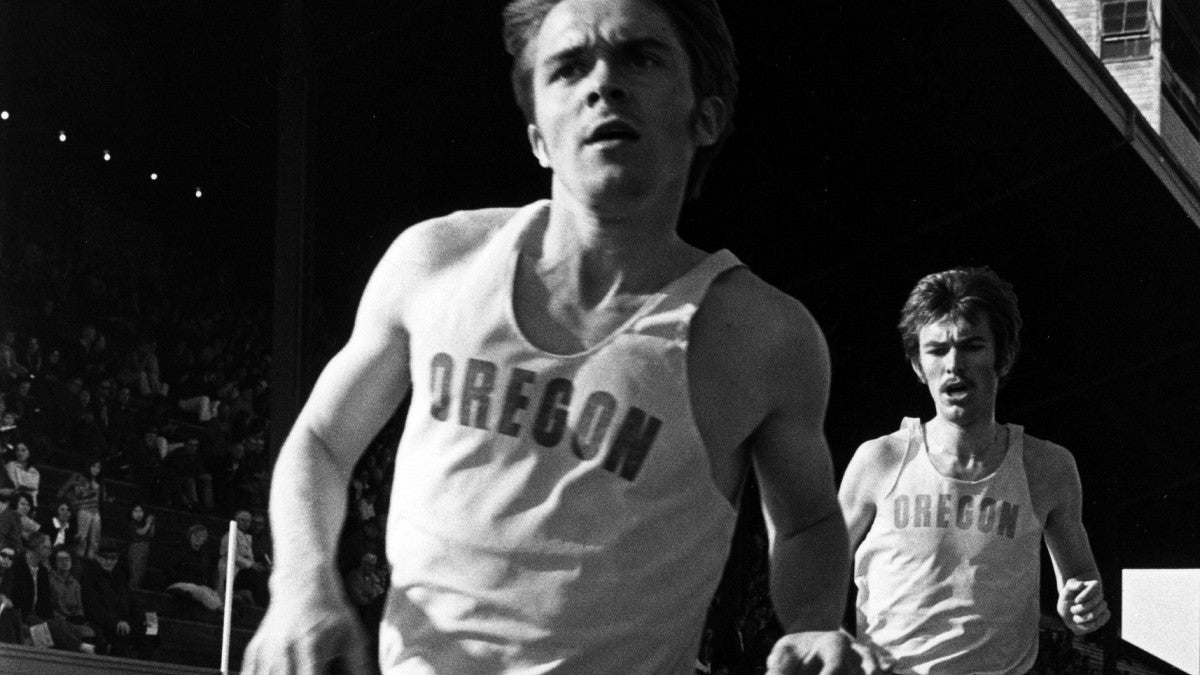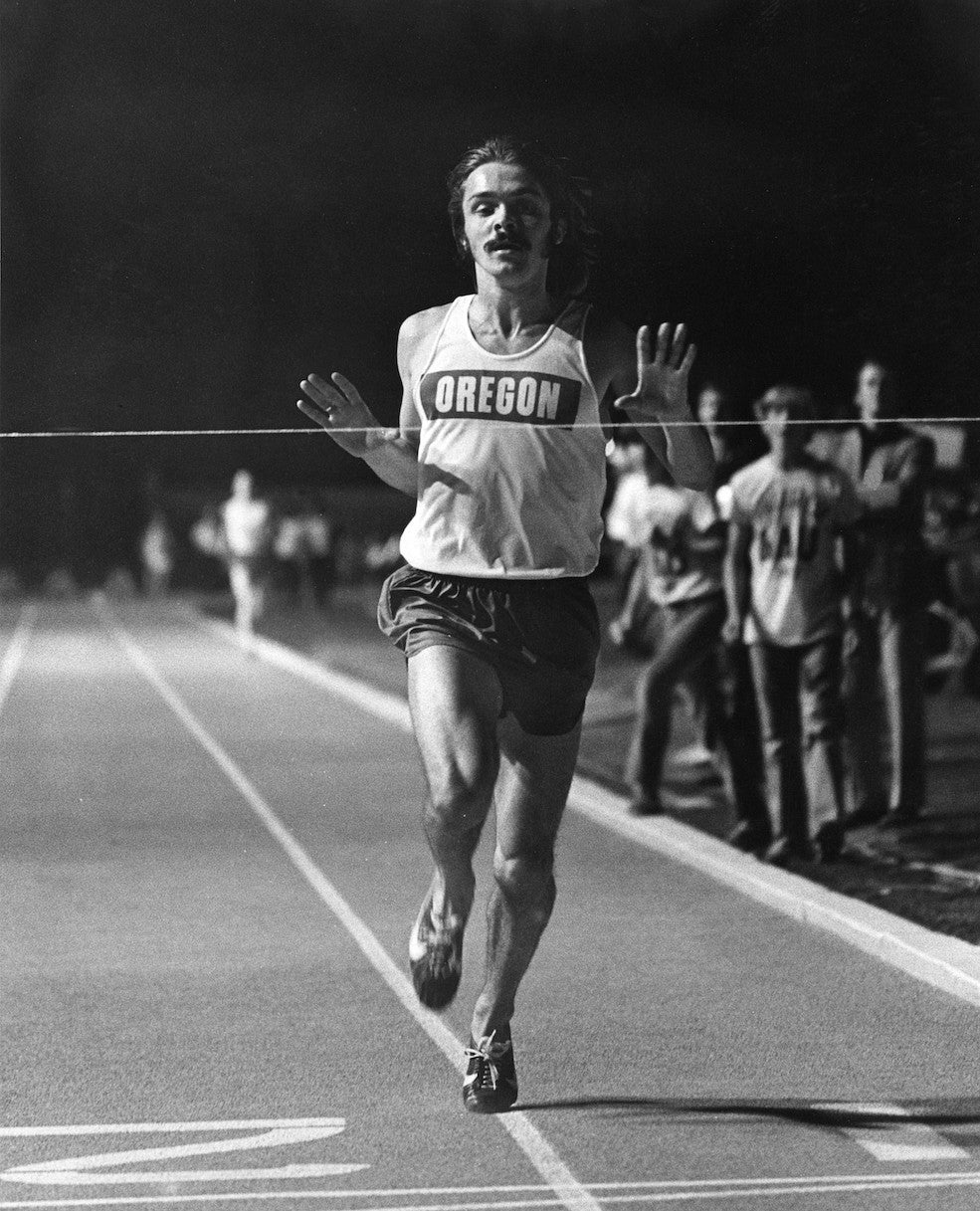 Steve Prefontaine
Years competed: 1970-1973
Major: Broadcast Communications, UO '74
Hometown: Coos Bay, Oregon
If there existed a Mount Rushmore for former Oregon student-athletes, the candidates for such an honor would be numerous, but at least one would be a near unanimous pick.
Steve Prefontaine.
He was a star runner, an icon who blazed his own trail on and off the track, and an inspiration for the jogging boom across the United States in the late-20th century. Known simply as "Pre," he grew up in Coos Bay on the Oregon Coast and earned rock star status across the nation before his untimely death at the age of 24.
Prefontaine ran with a flamboyant style, refusing to stalk the leaders and instead pushing the pace at every opportunity. He saw running not only as a test of speed and fitness but of toughness and grit, and said famously, "to give anything less than your best is to sacrifice the gift."
Prefontaine arrived at the University of Oregon in 1969, having won two high school state cross country championships and three more state titles on the track for Marshfield High School. He finished third in the NCAA Cross Country Championships as a freshman but took home the titles as a sophomore, junior and senior, and he won four straight titles on the track in the three-mile/five-kilometer event.
At one point, Prefontaine owned all eight American records at distances between 2,000 and 10,000 meters, and between two miles and six miles. He also held eight collegiate records while at Oregon, and in 38 races at Hayward Field between 1970 and 1975, Prefontaine won 35 times.
The three losses all were in the mile, but Prefontaine broke the 4-minute barrier in that distance nine times. His personal best for a mile was 3:54.6 in 1973, less than four seconds off the world record at that time.
It was at the 1972 Olympic Games that Prefontaine captured the eye of the world. After setting the American record at 5,000 meters in the U.S. Olympic Trials, 13:22.8, ;Prefontaine was determined to run with his trademark style in the Olympics. He took the lead in the last mile in Munich, only to fall to fourth in the home stretch.
An automobile accident claimed Prefontaine's life in May 1975, leaving the running community to wonder what might have been at the 1976 Olympics and beyond. But Prefontaine's legacy lives on to this day, inspiring runners around the world to ask their bodies for more than it seems possible to give, so as not to sacrifice the gift.
- Rob Moseley, UO Athletics
Raevyn Rogers
Years competed: 2015-2017
Major: Art, UO '19
Hometown: Houston, Texas
In March 2015, then-freshman Raevyn Rogers experienced the NCAA Indoor Championships like most of us: from home on the couch.
The early disappointment quickly turned to a learning opportunity and a motivational tool for Rogers. Not only did she qualify for the NCAA Outdoor Championships later that year but as the only freshman to advance to the final, she ran away with the 800-meter national title in 1:59.71, the fastest in-season time by a collegiate runner in eight years.
"I didn't want being a freshman to limit what my goals should be," Rogers said.
During her time in Eugene, there weren't many limits for Rogers who dominated the 800 meters over a span of three years. After missing out on the 2015 NCAA indoor meet, Rogers responded by winning the next five national titles at 800 meters.
Rogers swept the NCAA indoor and outdoor titles in 2016 which set her up for a soon-to-be historic 2017 season. After an indoor campaign that included a collegiate record with the distance-medley relay and another NCAA crown at 800 meters, Rogers carried the momentum into the outdoor season that featured an NCAA-record performance of 1:59.10 at the Mt. SAC Relays.
"We didn't really discuss or plan it but (head coach Robert) Johnson probably knew more than I did," Rogers said of the race. "Brooke (Feldmeier) went out to the lead and I just went along with her. I wasn't expecting (the time) and didn't realize it at the finish but it was a perfect race."
By the end of her storied career at Oregon, Rogers had collected six NCAA and three Pac-12 individual titles, helped the Women of Oregon to four NCAA and three Pac-12 team titles, set or been part of three collegiate records and won The Bowerman following her standout season in 2017.
Rogers won her five NCAA titles in the 800 meters by a combined 6.38 seconds, good for an average of just under 1.28 seconds per win. She saved her most thrilling and dramatic victory for her final race in an Oregon kit, the anchor leg of the Ducks' 4x400-meter relay at the 2017 NCAA Outdoor Championships.
Having won the 800 meters earlier in the day, Rogers teamed with Makenzie Dunmore, Deajah Stevens and Elexis Guster to clinch the team title and secure the first-ever Triple Crown by a women's program in NCAA Division I history. Anchored by Rogers' 49.77 split, the quartet also set the collegiate record of 3:23.13 in the process.
So maybe it was appropriate that Rogers won four of her six NCAA titles in Eugene including her final two in front of nearly 13,000 fans at Hayward Field.
"If you know anything about Eugene, you know about the track culture there," Rogers said. "The people create the culture and make it special."
- Zach Lawson, UO Athletics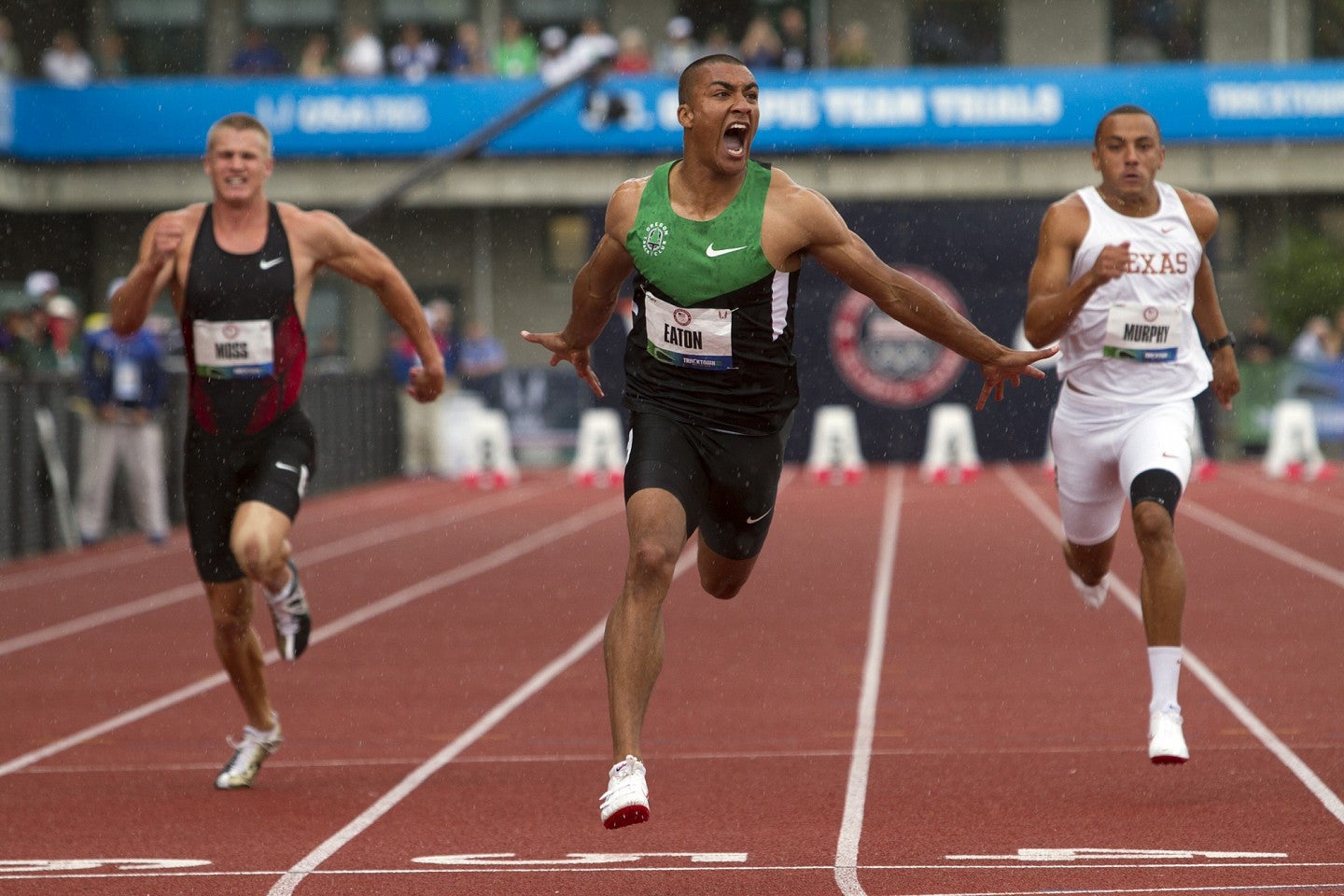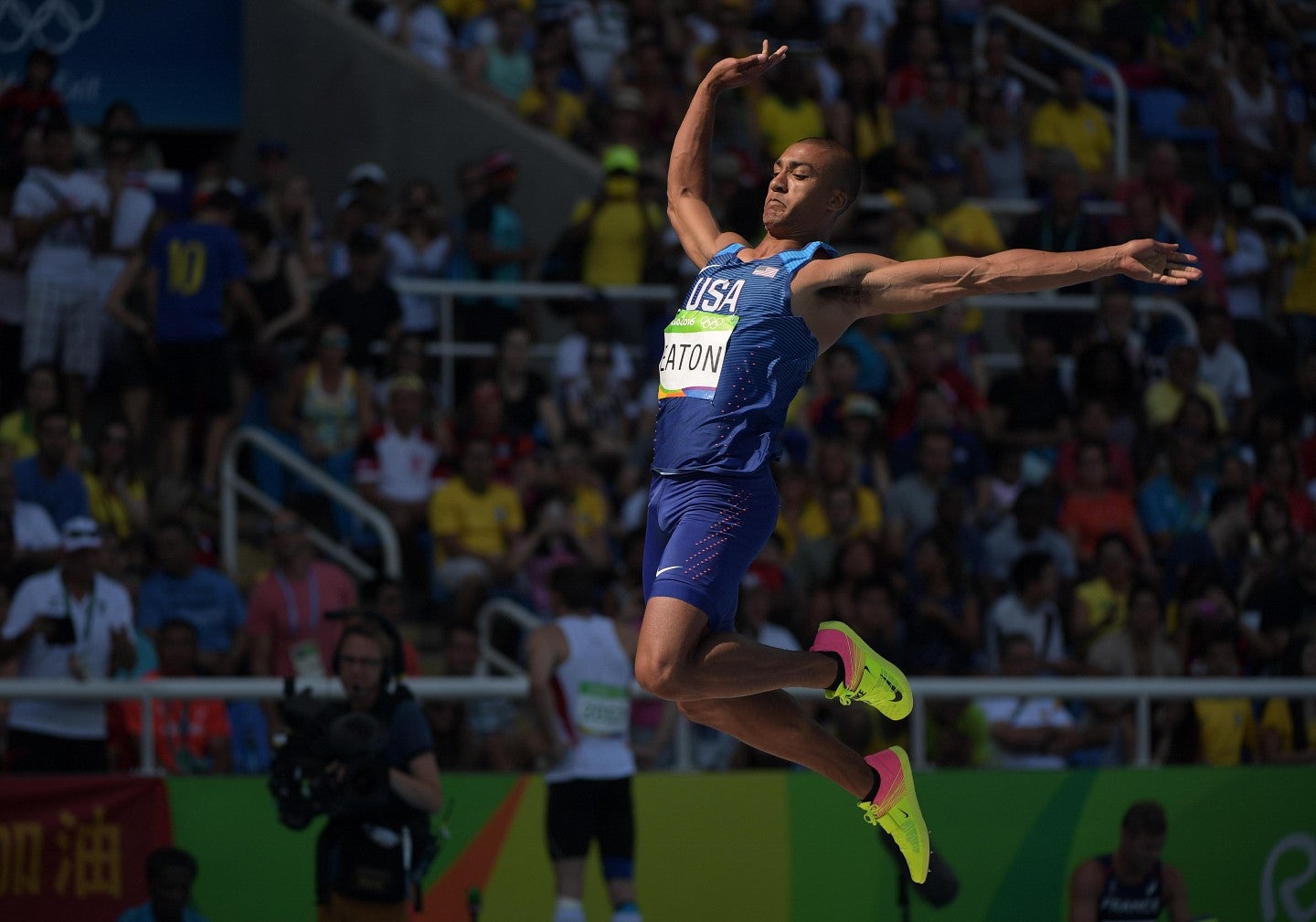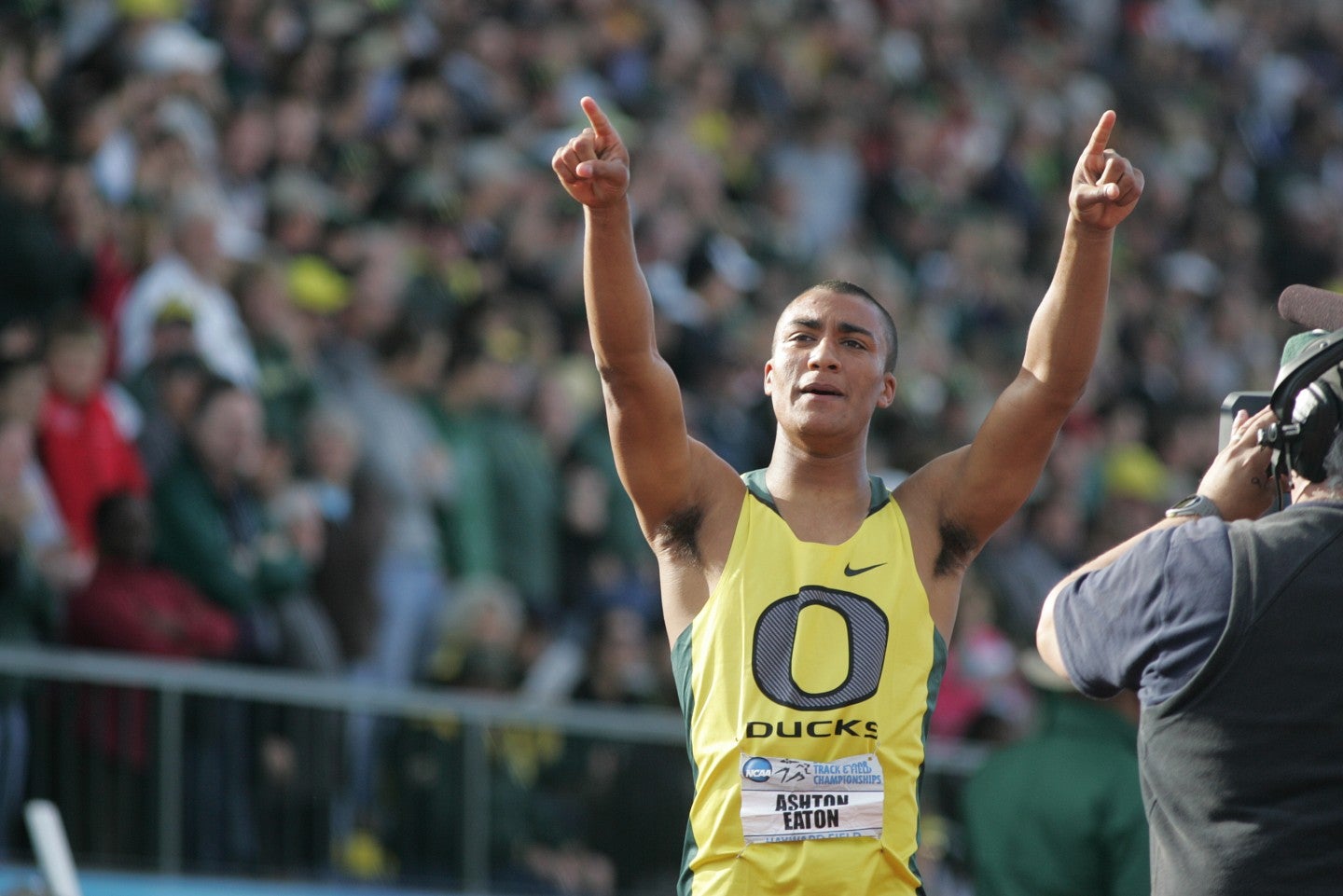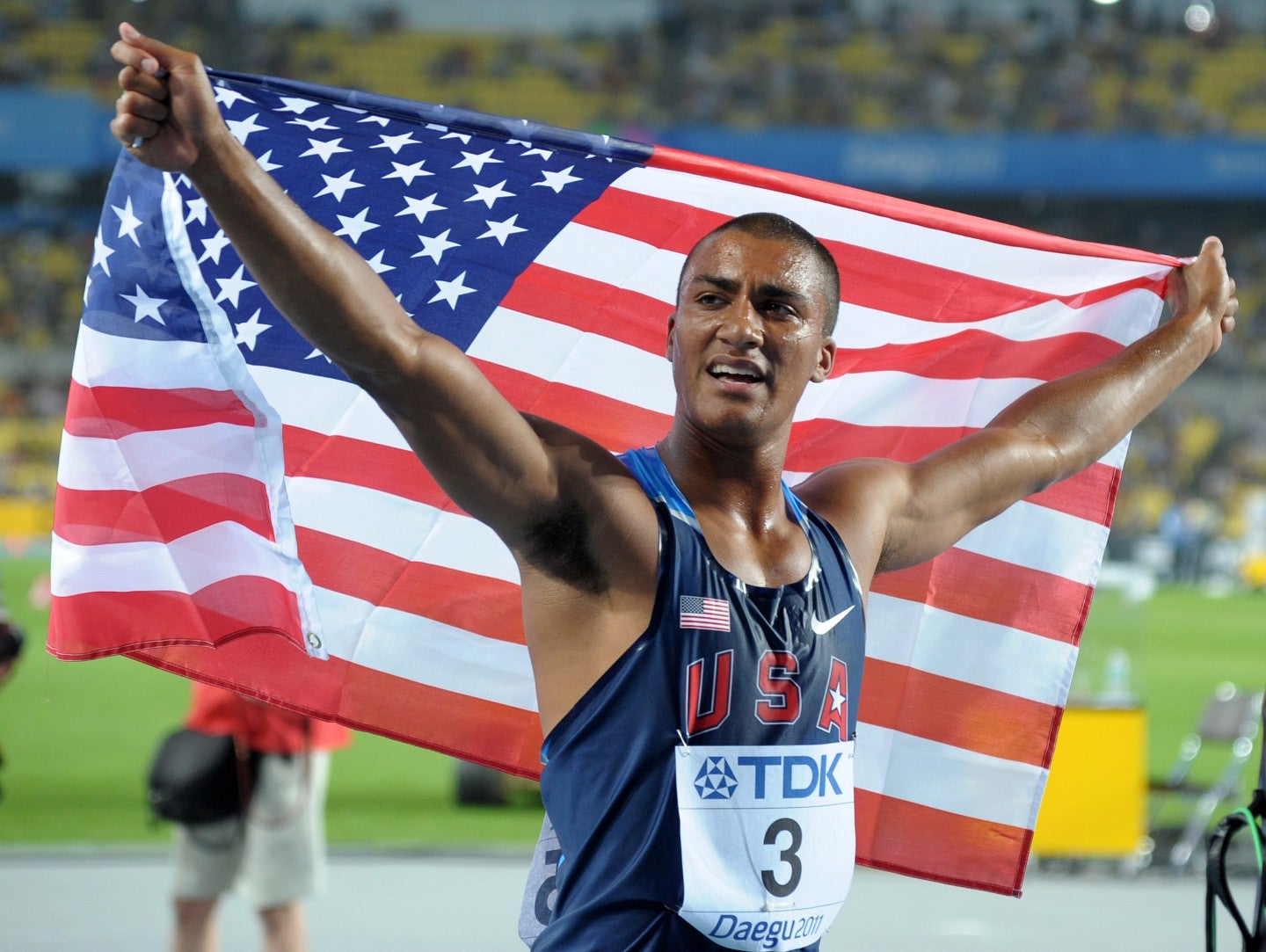 Ashton Eaton
Years competed: 2007-2010
Major: Psychology, UO '10
Hometown: Bend, Oregon
It's not that the Hayward Field faithful needed more reasons to love Ashton Eaton. After all, the Bend, Ore., native had won five NCAA titles during his storied UO career including a victory in front of the home crowd in his final collegiate competition at the 2010 NCAA Championships.
Twice a world medalist—2011 (decathlon/silver) and 2012 (heptathlon/gold)—in his first two seasons as a professional, the adoration for Eaton grew when he broke the world record in the decathlon at the 2012 U.S. Olympic Team Trials in Eugene.
In front of a frenzied 21,795 fans at Hayward Field on June 23, 2012, Eaton completed the two-day, 10-event display with 9,039 points to become just the second man in history to eclipse the 9,000-point barrier in the decathlon, besting the previous world record of 9,026 points set by the Czech Republic's Roman Sebrle in 2001.
Entering the final event—the 1,500 meters—Eaton needed to produce a personal best to topple the world mark and, with the uproarious support of the fans, he responded with a time of 4:14.48 and was the new world-record holder. Another memorable moment was added to Hayward Field lore.
"I am a big believer in the Hayward magic," Eaton said following the race. "At 600 meters, I knew there was no way I wasn't going to get the record.
"I love the fans, I love this field and it's special for it to happen here. It is a very special place."
Eaton went on to extend the world record to 9,045 points at the 2016 Olympics in Beijing to win his second gold medal in the decathlon. His mark now ranks No. 2 on the all-time list after Kevin Mayer of France broke the world record in 2018.
Eaton started his domination of the NCAA multi-event in 2008 when he won his first of three-consecutive decathlon titles in Des Moines, Iowa. He followed up with wins in 2009 and 2010 to become the first person with three-consecutive NCAA decathlon titles.
He completed the NCAA heptathlon-decathlon double in 2009 and 2010. With his 2009 national title in the heptathlon, Eaton helped the Men of Oregon win the program's first NCAA indoor team crown.
During his senior campaign in 2010, Eaton cemented his place as an icon of Oregon track and field. In the process of winning another NCAA heptathlon title with 6,499 points, Eaton not only broke his own collegiate record—set earlier that season—but he broke the American and world record in the event. He took down the old mark (6,476) set by Dan O'Brien in 1993.
Eaton extended that world record three more times before retiring in January 2017. He set the still-standing world mark of 6,645 points in winning the world indoor title in 2012.
At the 2010 Pac-10 Championships in Berkeley, Calif., Eaton put on a performance for the ages by winning three events—110m hurdles, long jump and decathlon—and finishing as runner-up at 100 meters. He became just the fifth man in conference history to win three league titles at the same meet.
Eaton finally got a chance to win an NCAA decathlon title on his home track and he did just that with a record-breaking performance at the 2010 NCAA Championships at Hayward Field. He broke the meet, school and conference records with a score of 8,457 points. Ten years later, Eaton still ranks as the No. 4 all-time collegiate performer in the decathlon.
In his final collegiate act, Eaton won The Bowerman following his spectacular 2010 season.
- Zach Lawson, UO Athletics
Otis Davis
Years competed: 1958-1960
Major: Physical Education, UO '60
Hometown: Tuscaloosa, Alabama
Before Ashton Eaton and Matthew Centrowitz, before Joaquim Cruz and Mac Wilkins, there was Otis Davis.
When Davis broke the tape in the 400-meter final at the 1960 Summer Games in Rome — famously leaning to beat a frantic dive to the line by runner-up Carl Kaufmann — he became the first athlete or alumnus from the University of Oregon to win an Olympic gold medal.
Others followed in his footsteps. But just like on that summer day in Rome, Davis was first. To win that 400 final, he also became the first man ever to break 45 seconds, crossing in 44.9. 
Two days later, on Sept. 8, 1960, Davis anchored the United States to another gold medal in the 4x400-meter relay. The U.S. quartet ran a world-record time of 3:02.2, and Davis became the first double gold medalist from Oregon — a feat not matched until Eaton won his second decathlon gold in 2016.
Born in Alabama, Davis served in the Air Force during the Korean War. He enrolled at Oregon on a basketball scholarship. But a fortunate bit of chance led to his groundbreaking achievements in track and field.
One day in 1958, as a 26-year-old undergraduate, Davis was watching the Men of Oregon work out under the legendary Bill Bowerman at Hayward Field. A conversation with Bowerman resulted in Davis trying his hand first in the high jump and long jump, before moving to the sprints.
Basketball's loss was track and field's gain. Davis won the 440-yard dash at the Pacific Coast Conference championships in 1959, then took third in the 400 meters at the 1960 U.S. Olympic Trials before earning gold in Rome — twice.
After retiring from competition the next year, Davis became a teacher and counselor for the next several decades, first in the Eugene-Springfield area and later on the East Coast. He was inducted into the Oregon Sports Hall of Fame in 1981, the University of Oregon Hall of Fame in 1992 and the USA Track & Field Hall of Fame in 2004. 
Among the other "firsts" Davis achieved, legend has it, was to be the first runner to test a pair of Bowerman's famous "waffle-iron" shoes. Now, Davis joins his former coach on the tower overlooking Hayward Field, where a chance meeting in 1958 set the stage for one of the most groundbreaking careers in UO track and field history.
- Rob Moseley, UO Athletics