Hayward Field Renovation Fact Sheet
The newly renovated Hayward Field at the University of Oregon is a world-class track and field facility. The reimagined stadium gives athletes—including the UO's outstanding student-athletes—an unparalleled stage on which to push the limits of what is possible while providing the ultimate fan experience—a theater for track with comfortable seats, in-stadium amenities, amazing sight lines and intimacy to the competitors.
Historic Hayward Field Facts
Location: University of Oregon
Capacity: 10,500
Opened: 1919 for football, 1921 for track and field
Named in Honor of: Bill Hayward, Oregon track and field head coach, 1904-47
History: hayward.uoregon.edu/history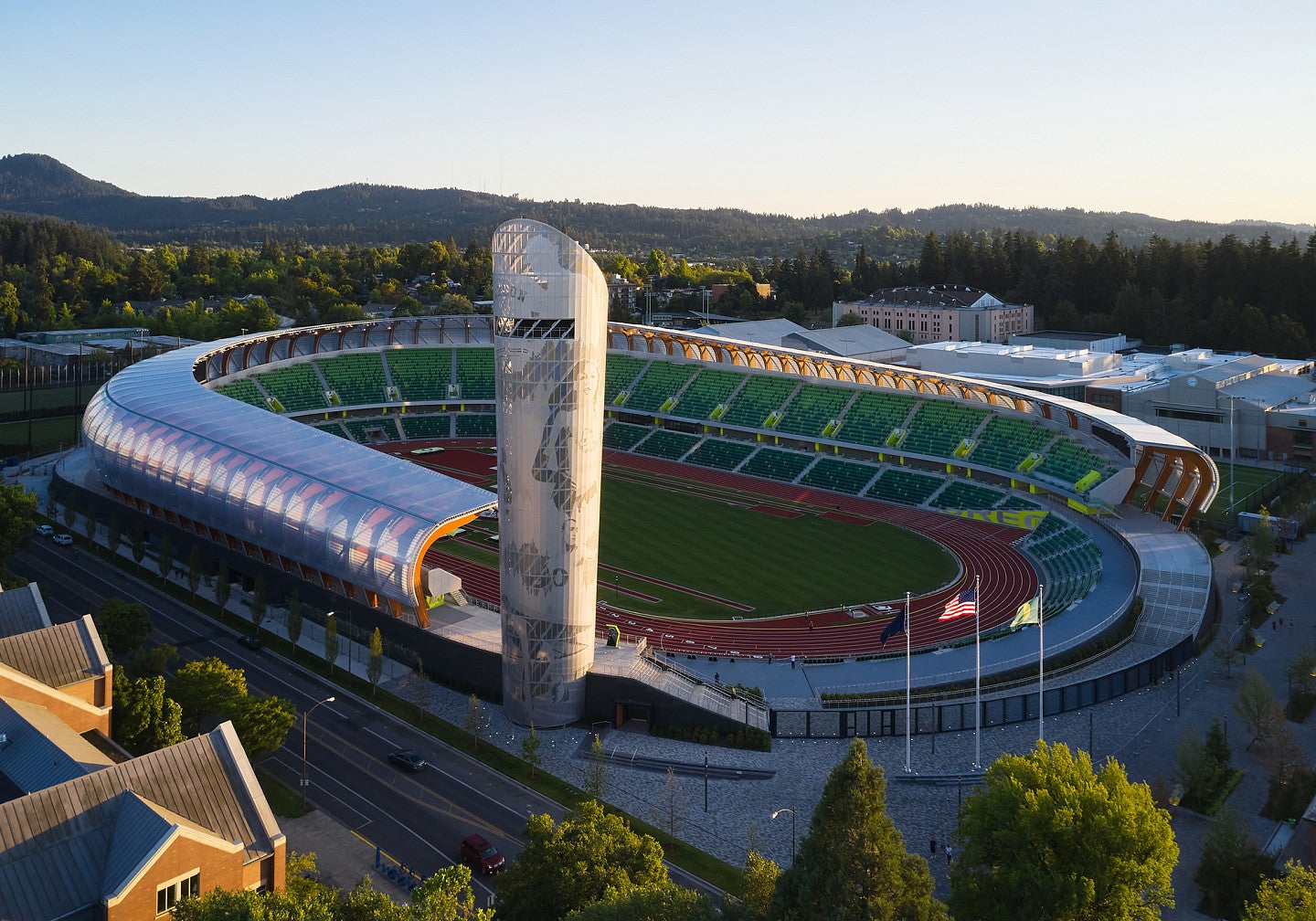 Facts about the Renovation
Address: 1530 Agate Street, Eugene, Oregon
Construction Began: Summer 2018
Completion: Spring 2020
Capacity: 12,650 permanent seats; expandable to nearly 25,000
Funding: Fully funded by gifts from Penny and Phil Knight and more than 50 other donors
Architects: SRG Partnership
General Contractor: Hoffman Construction
A Campus Landmark in all Directions
Hayward Field is a world-class track and field facility that weaves its way into the campus fabric in a host of ways.
A rebuilt Powell Plaza acts as the main entrance to the stadium at the northeast corner of the site, at the intersection of Agate Street and 15th Avenue. This open space is reinvented and will be newly maintained, anchoring this part of the project's edge to the community.
Another open plaza anchors the northwest corner of the project. This provides entry for Human Physiology and a second gateway to campus. Both plazas will flow seamlessly into a new 15th Avenue park development.
An east-west pedestrian corridor adjacent to the south end of the stadium connects Agate Street to practice fields and runs through to University Street. 
Even Hayward Field's street address honors history. Set at 1530 Agate St., the numbers recognize the time of 1:53.0, Phil Knight's personal best in the 800 meters.
Design Objectives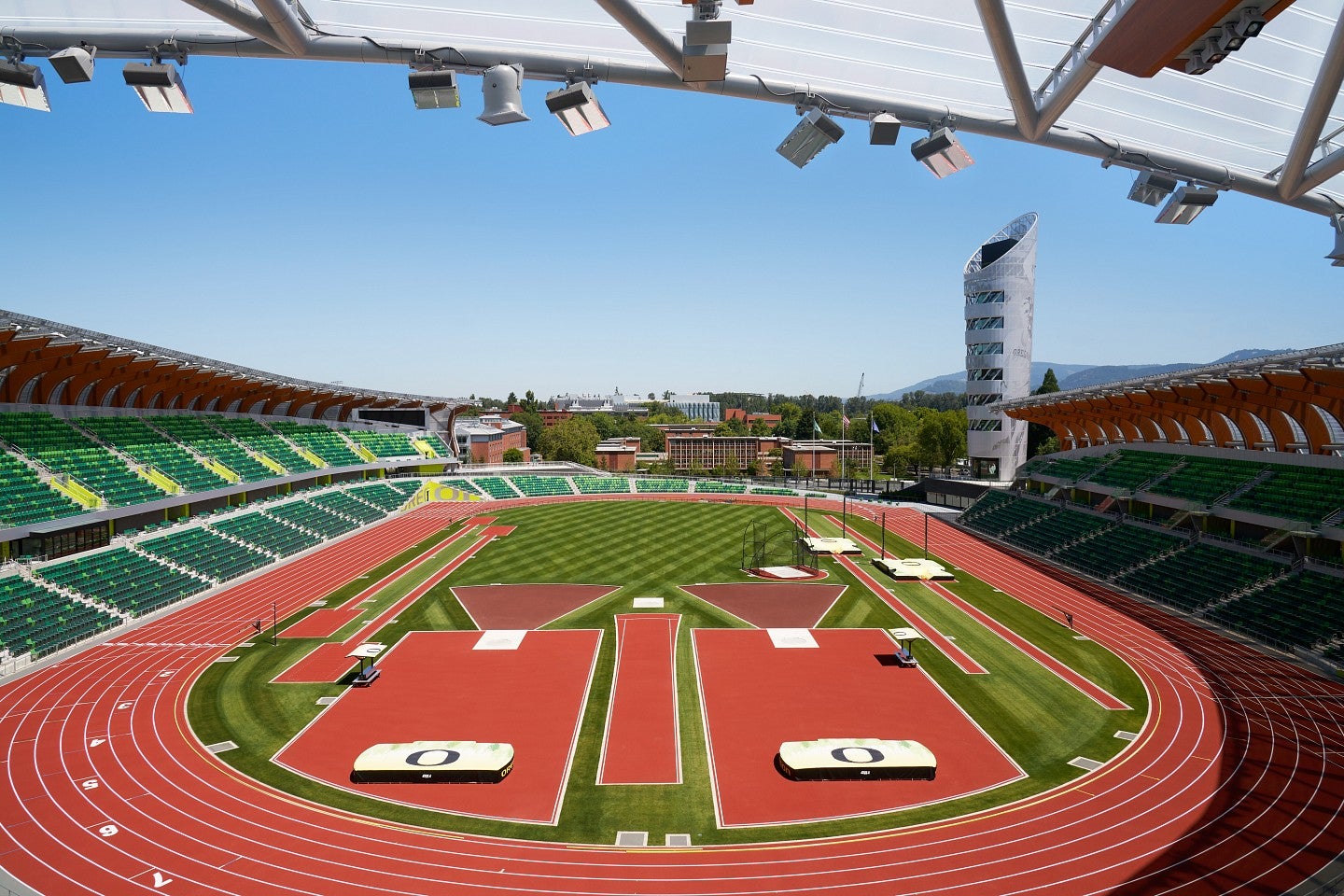 Create a "Theater" for Track and Field
Unobstructed sight lines throughout
Great acoustics
A new nine-lane track
Intimacy, a proximity of spectators to athletes
All seating is in the form of spacious 22-inch seats with generous and comfortable 44-inch tread depth throughout the stadium
The first row of seats will sit on track level, mere feet from the outside lane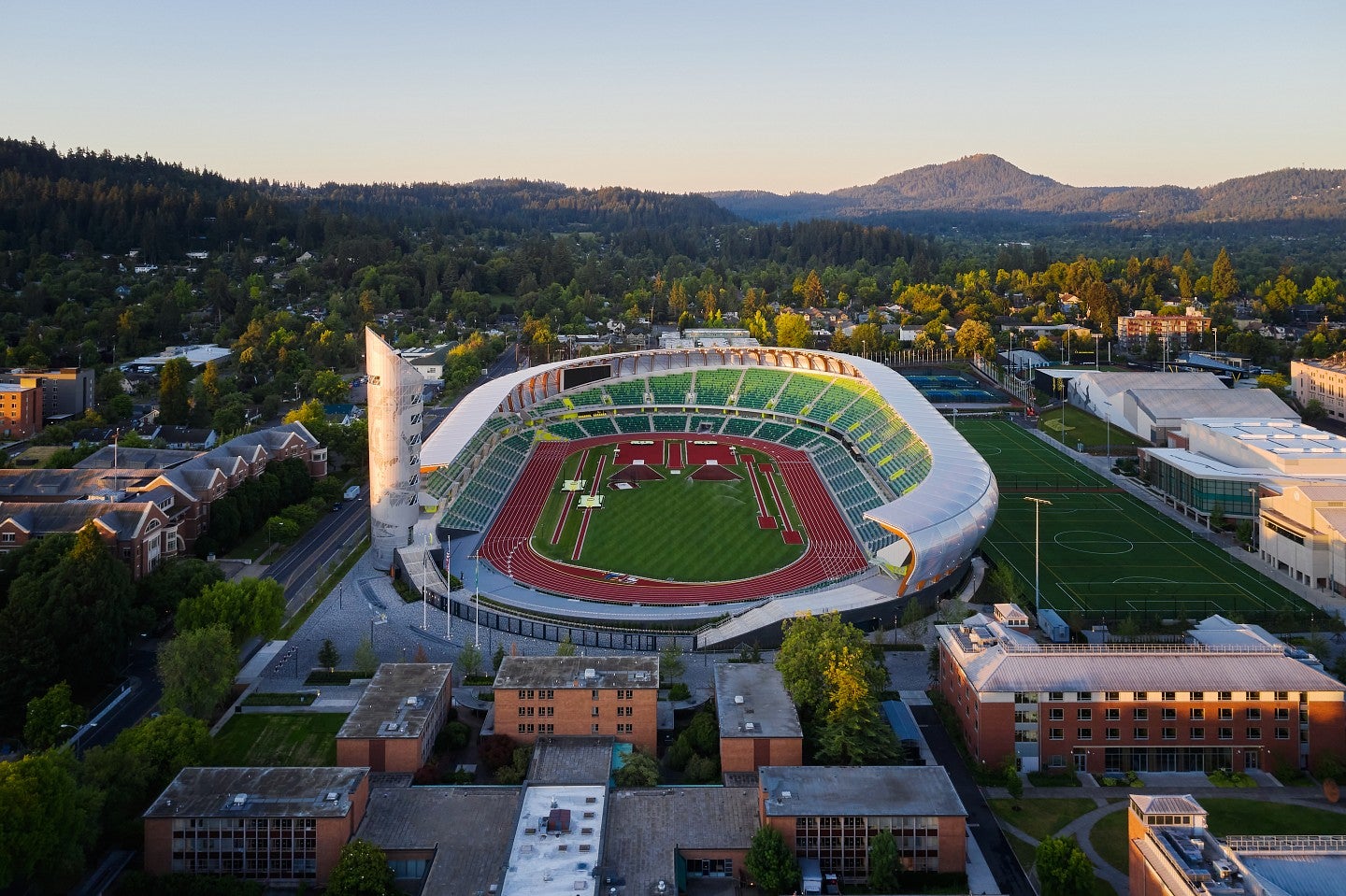 Create a Structure that is Open and Airy
View to the surrounding green landscape and hillside
Maximize natural daylight
Create a unifying iconic roof
Provide a continuous roof element for spatial enclosure, intimacy, and acoustics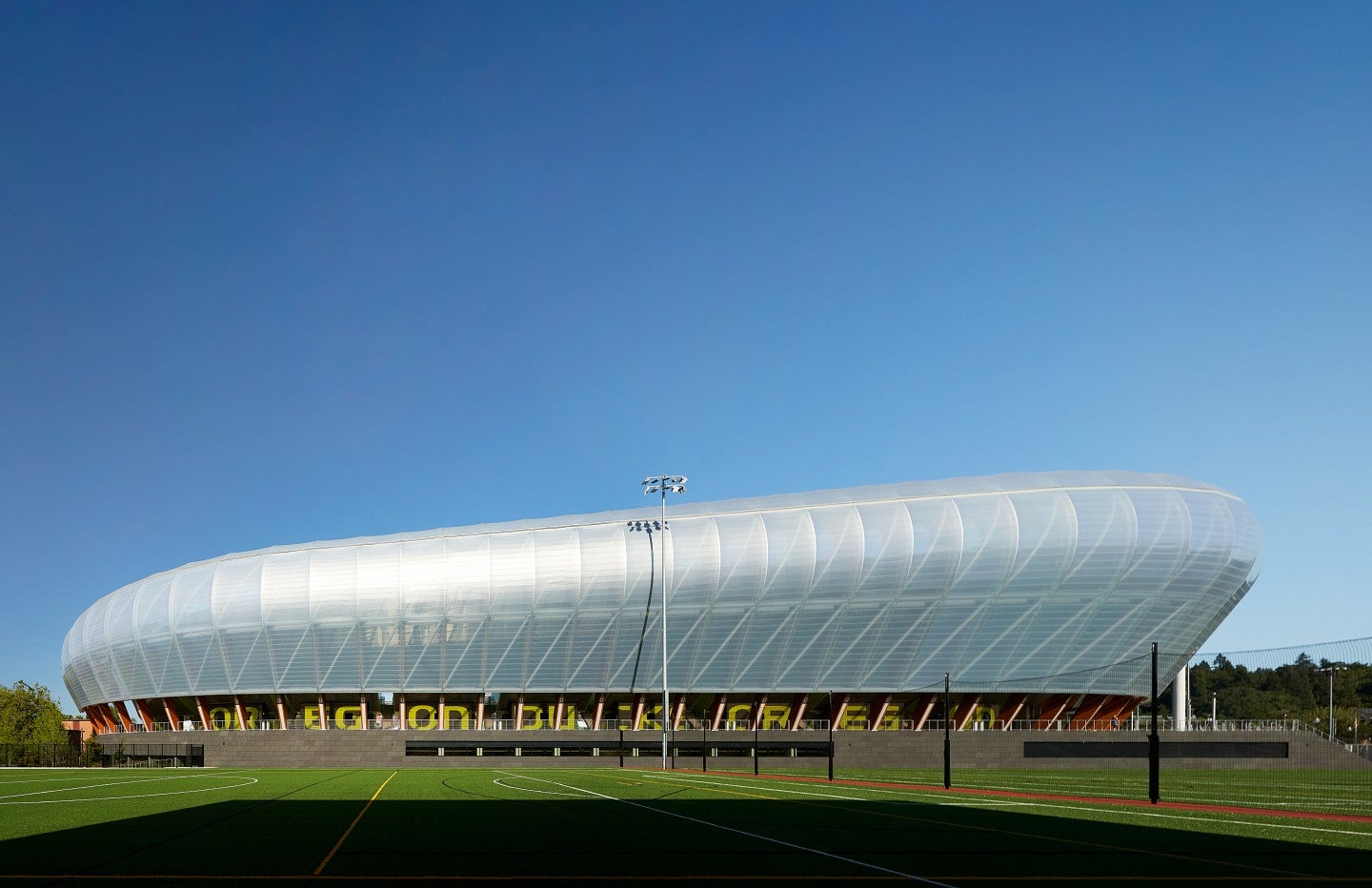 Create a Heroic Wood Roof Structure
Showcase Oregon history, culture, and forest products. As Bill Bowerman said before the 1974 Hayward Renovation, "Oregon is wood and wood is Oregon."
The Stadium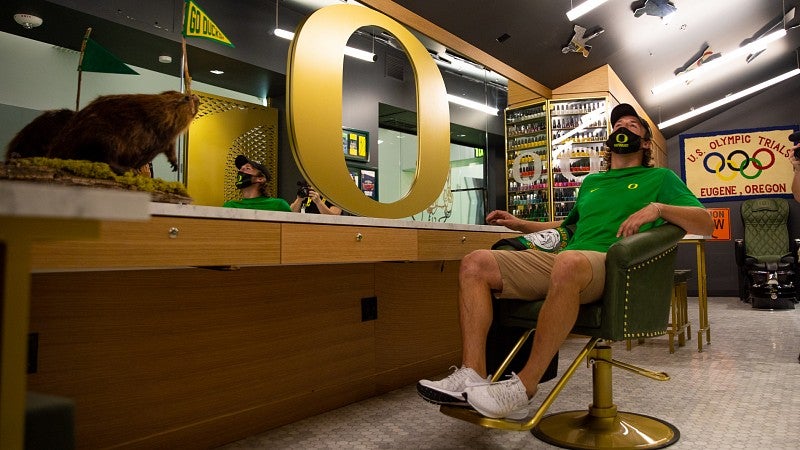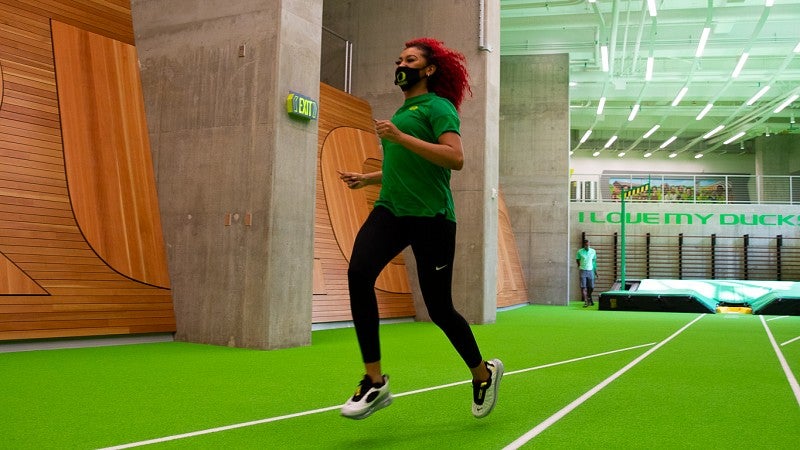 The stadium is divided into the west stands and east stands with a gap between the two on the southeast corner. The stadium bowl is split into an upper bowl and a lower bowl. Suites, concessions, and restrooms are inserted in between the western and southwestern edges of the stadium. The lower bowl has a maximum of nine rows where the upper bowl has a maximum of 18 rows. A unique feature is an upper walkway concourse, eight-feet wide, wrapping around the upper bowl of the west stands. The soffit of the upper bowl is clad in custom perforated metal panels.
Performance features:
Modern men's and women's locker rooms

An equipment room, a video room, and a weight room

Indoor practice area includes six-lane, 140-meter straightaway, as well as areas for long jump, triple jump, throws (surrounded by netting), and pole vault

Facilities for training and sports medicine

A hydrotherapy room, treatment and rehab area, anti-gravity treadmill room and passive and active recovery spaces 

Best track and field fans in the world
Department of Human Physiology
The University of Oregon's Department of Human Physiology will move into the northwest corner of the stadium's practice facility level, taking advantage of new offices, conference rooms, research, lab areas

The department has a separate entry at the northwest plaza of the stadium

A roll up door opens from the research lab to the 140-meter indoor straightaway
The Tower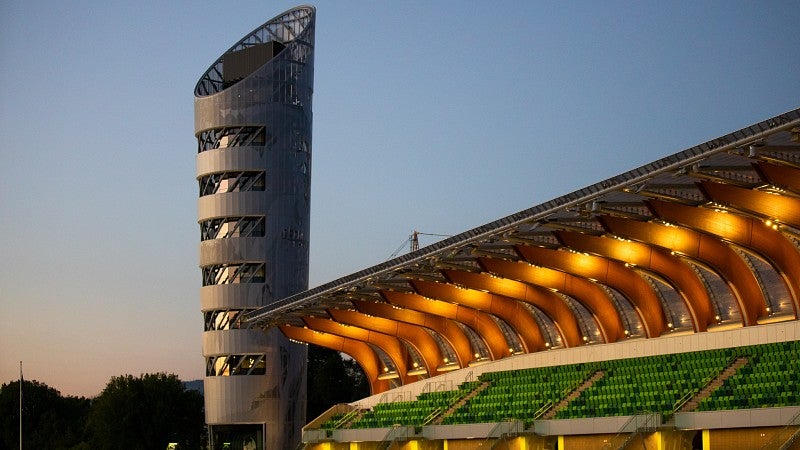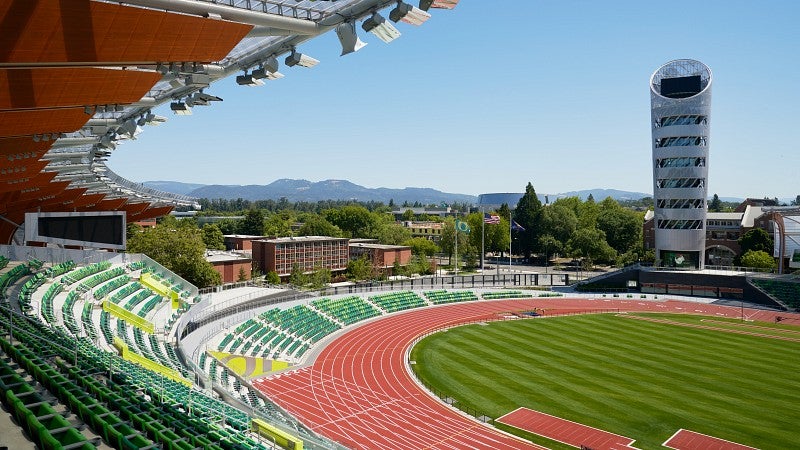 The multi-story landmark tower aligns with the east stands. The tower features a lobby filled with interpretive exhibits, an observation deck, viewing areas, stairway, elevator, and a staircase to the top. Its perforated metal skin and steel form flare upward and outward to resemble a torch, a shape inspired by the Olympic torch. The tower is already a campus landmark, with a lasting visual elegance.
Each floor of the tower is designed for a specific use, including:
Tower lobby and exhibits, connects to conference meeting room
Concourse level
Security
Satellite offices
Conference rooms
Observation Deck (Exterior)
Hayward Hall
The 4,000-square-foot Hayward Hall, with interactive exhibits, is situated under the east side of the stadium, with windows along Agate Street.
The exhibits highlight significant pieces of Historic Hayward Field and:
A timeline with biographical information on all UO track coaches.
Exhibits on Bill Bowerman, highlighting his deep Oregon roots. Designers plan to display a re-creation of his workshop to illustrate his work as a tinkerer, innovator, and inventor.
The tower and Hayward Hall will be open to the public. Details, such as hours and operations and public access to the track, have yet to be determined. But Hayward Field will welcome track fans new and old.