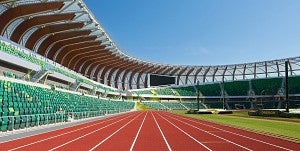 Uncle Phil's Front Row to Debut at Prefontaine Classic
Seats for youth to become a tradition at the reimagined Hayward Field at the University of Oregon.
Hayward Field at the University of Oregon is widely known for its sophisticated and highly enthusiastic fans. And the Track Town faithful are a huge component of what's come to be known as Hayward Magic. Now it's time to add something new to the magic potion — Oregon youth filling the seats along the Bowerman Curve in a dedicated section called Uncle Phil's Front Row. Always.
It's been said that Hayward Field represents the hope and future of track and field in the U.S. So, too, do the millions of boys and girls competing in the sport at the middle school and high school levels. In fact, the combined number of boys and girls competing in cross country and track and field comprise the largest group of high school sport participants across the country.
"Track and Field has a whole new generation of stars coming up right now," said Nike co-founder and former UO runner Phil Knight. "We saw many of them in the Olympics and they'll be at Hayward Field this weekend for the Pre Classic. I'd love to see every venue and every meet organizer make their events accessible to kids so that by the time the LA28 Olympics roll around, we not only have a new generation of athletes but a new generation of fans, too."
UO Head Track and Field Coach Robert Johnson added: "Throughout the design and build process for Hayward Field, every design decision hinged on the athlete; what would serve the athlete best. Uncle Phil's Front Row serves young athletes directly, giving them up close and personal exposure to high level performances that they can emulate."
The intent of Uncle Phil's Front Row is to provide prime seats for aspiring young track and field athletes and fans to experience all levels of competition at Hayward Field — from high schoolers competing at the Oregon Relays or OSAA State Championships, to collegiate stars pursuing conference and national championships, to the pros chasing medals at the Olympic Trials and World Athletics Championships. And, of course, the upcoming Prefontaine Classic with its global line up of newly minted Olympic medalists and world record holders.
"The opportunity for kids to sit at track level watching athletes compete at Hayward Field will captivate and galvanize attention and imagination alike," said Bev Smith, Executive Director of Kidsports, a non-profit organization that provides youth sports programs for pre-K through 12th graders in Eugene-Springfield and surrounding areas. "Uncle Phil's Front Row provides a platform that is both aspirational and inspirational; the electrifying footsteps will enchant many to follow."
Smith added: "You can be what you can see — that's the brilliance of Uncle Phil's Front Row, and the spark ignited in these kids by Hayward Field's magic will be transformational. We thank Uncle Phil's Front Row for offering a place forever for dreams, hopes, and future to live together."
On an ongoing basis, the 130 front row seats in sections 130-136 will be designated as Uncle Phil's Front Row. For this week's Prefontaine Classic, a total of 658 seats in the north end will be provided to Eugene area youth groups through outreach to Kidsports, Willamalane, Oregon Community Programs and local high schools.