Celebrating Our History
Mounting of crown on tower at Hayward Field sets in motion installation of graphics honoring
UO greats and inspiring the next generation of university excellence.
Hayward Field
"A World-Class Track and Field Facility" Set to Open in 2020
Hayward Field will be a world-class track and field facility that will weave its way into the campus fabric in a host of ways.
The fans who pack the stands and roar in support of the world's best athletes will still be right on top of the action; only, now they will enjoy unobstructed views from every one of the spacious seats in an arena that visually represents the state of Oregon.
Runners, jumpers, and throwers hoping to add to the 20 world records set at Hayward Field will enjoy state-of-the-art locker rooms, practice spaces, and athletic medicine rooms. Students and researchers in the Department of Human Physiology will make groundbreaking discoveries in new laboratory and classroom spaces.
Constant Pursuit of Excellence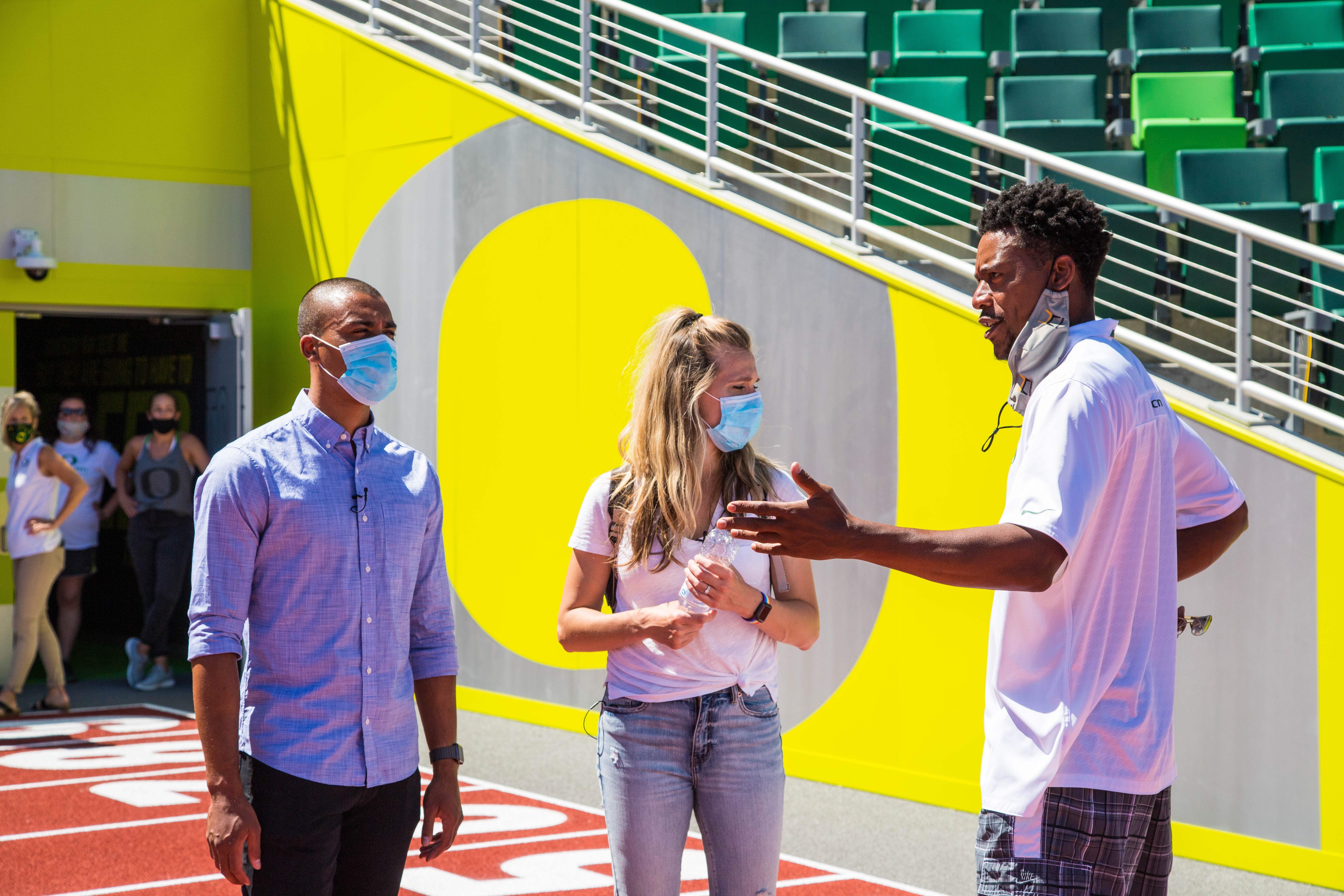 Almost Ready to Welcome You Back
UO Head Track and Field Coach Robert Johnson pens letter to Eugene community and track and field fans globally.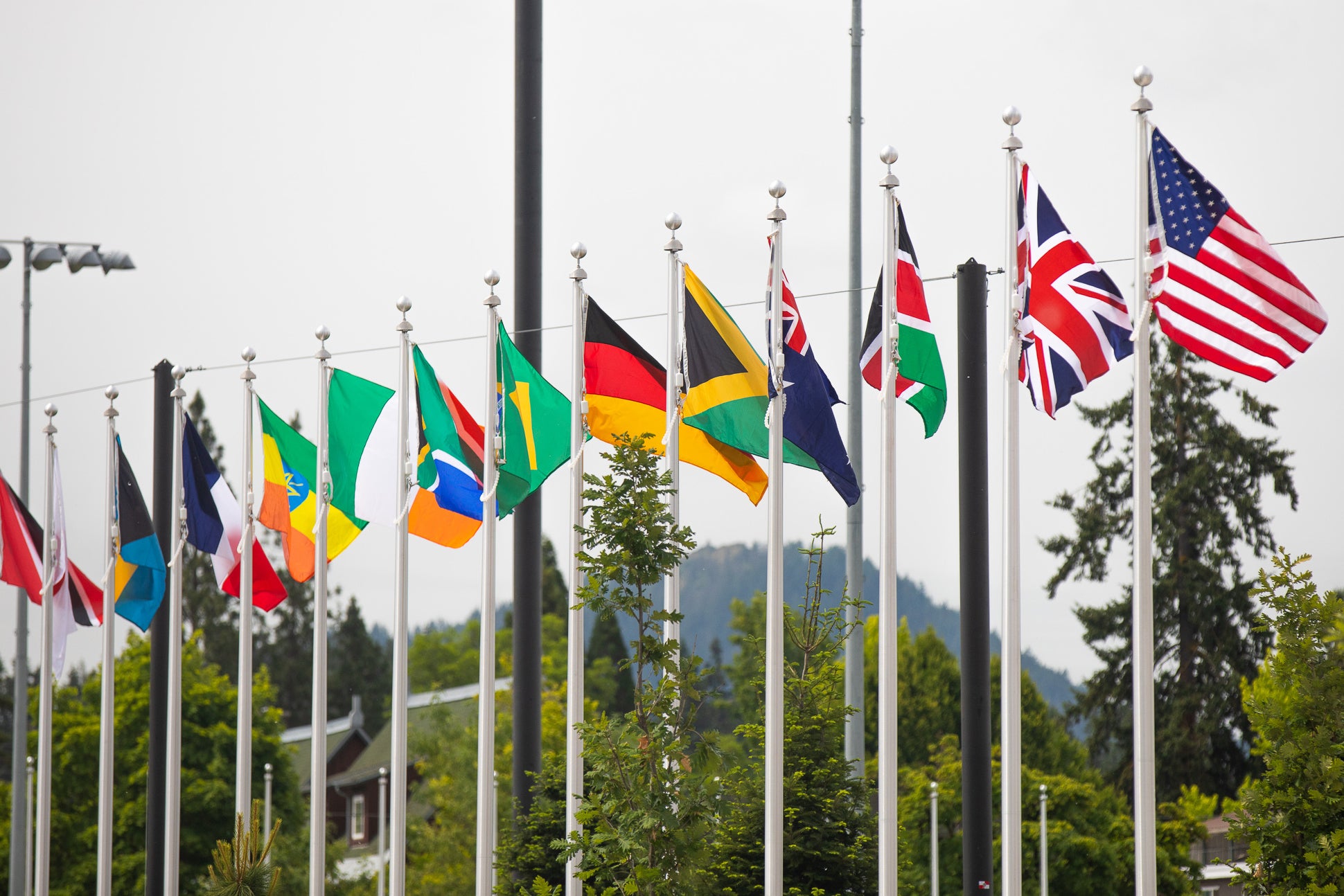 Celebrating Global Excellence
In a show of its international impact, the flags of 156 countries will wave at Hayward Field which signifies the number of nations represented in senior-level competition at the world-renowned facility.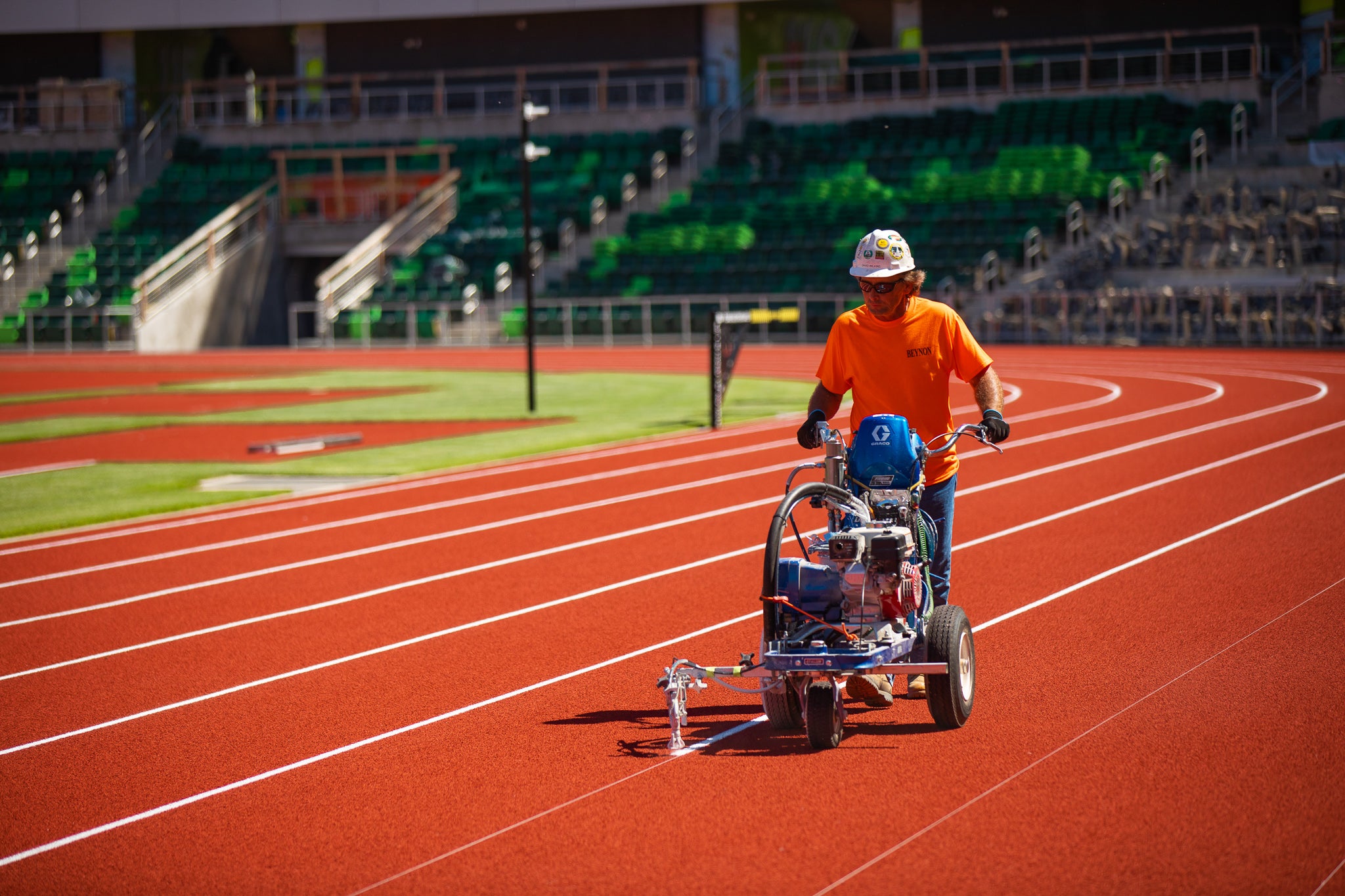 Hayward Field Stripes Return
With a careful eye and strings stretched the length of the straightaways, David Wilkins of Beynon Sports Surfaces began the process of striping the track at Hayward Field.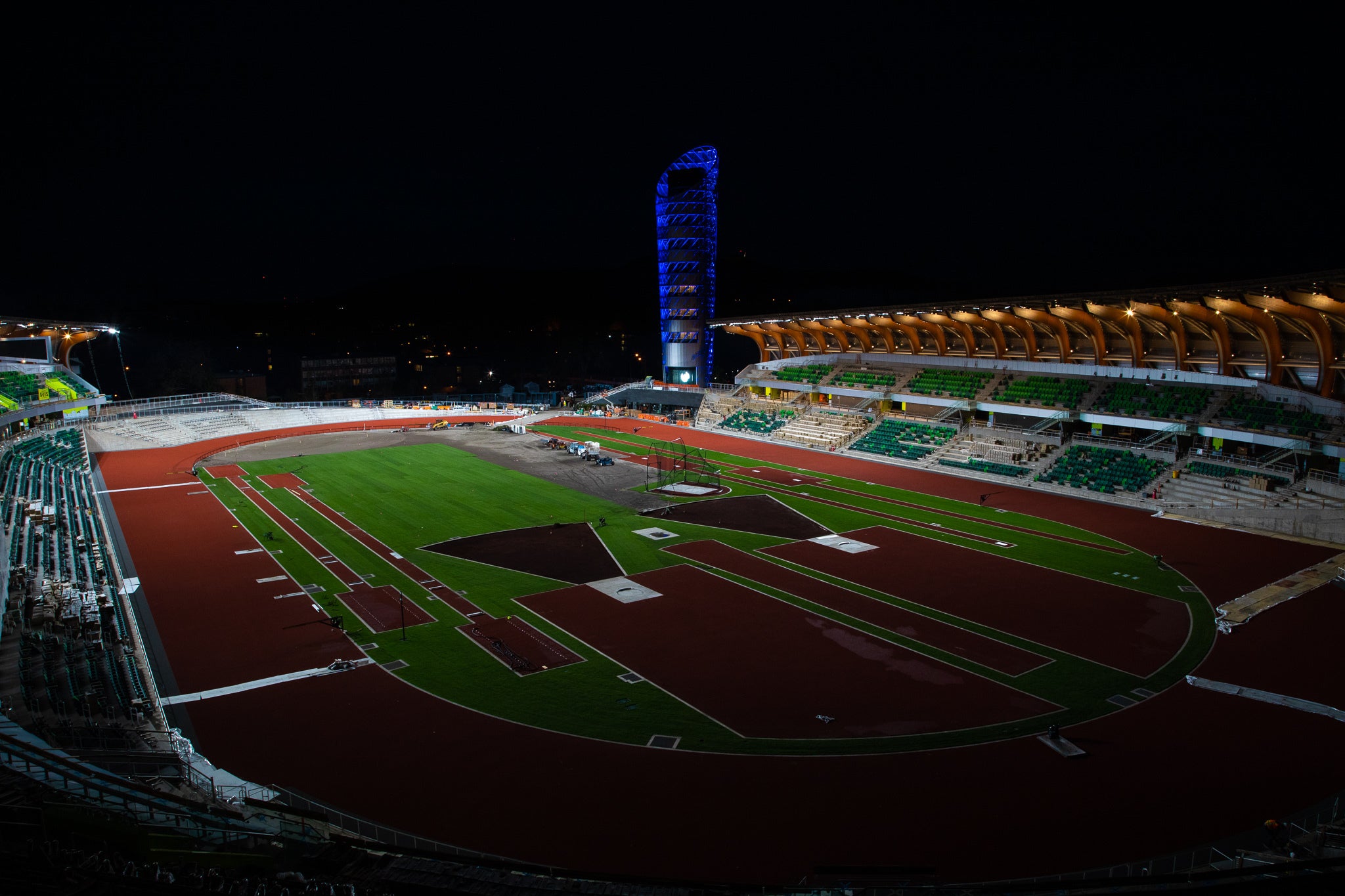 Hayward Field Tower shines blue to honor health care workers 
The tower at the University of Oregon's Hayward Field was lit blue Thursday night and into Friday morning to honor health care workers, first responders and all other essential workers keeping communities fed, protected and functional during the COVID-19 pandemic.
Excellence Taking Shape
In keeping with the University of Oregon's constant pursuit of excellence, Hayward Field will be a world-class track and field facility. The facility is taking shape in anticipation of opening in Spring 2020.
Hayward Field Renovation
Fact Sheet
Construction Starts: Summer 2018
Completion: 2020
Architects: SRG of Portland
General Contractor: Hoffman Construction
Funding: Fully funded by gifts from Penny and Phil Knight and more than 50 other donors
Capacity: 12,650 permanent seats; expandable to 25,000
"A new facility will add to the mystique, the motivation, of what's next for the university and the program."
—Raevyn Rogers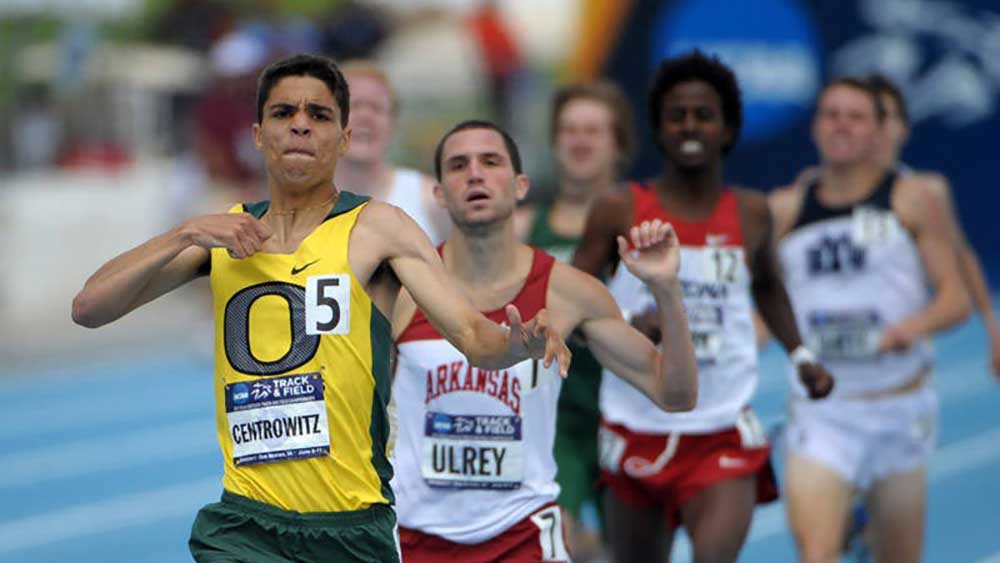 What People are Saying
See what some of the University of Oregon's former track and field athletes have to say about the Hayward Field renovation.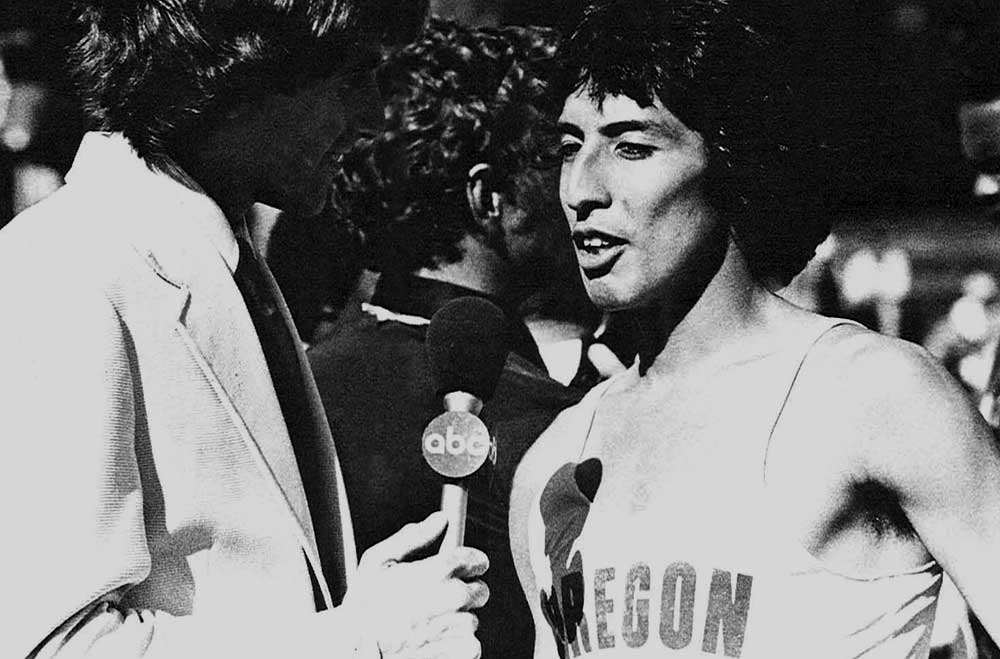 What Hayward Field Means to Me
Former Ducks national champion and UO board member Rudy Chapa shares a few stories about Hayward Field from his freshman year in the 1970s.
"...as much as we love tradition, you have to go forward and I'm excited about the future."
—Matt Centrowitz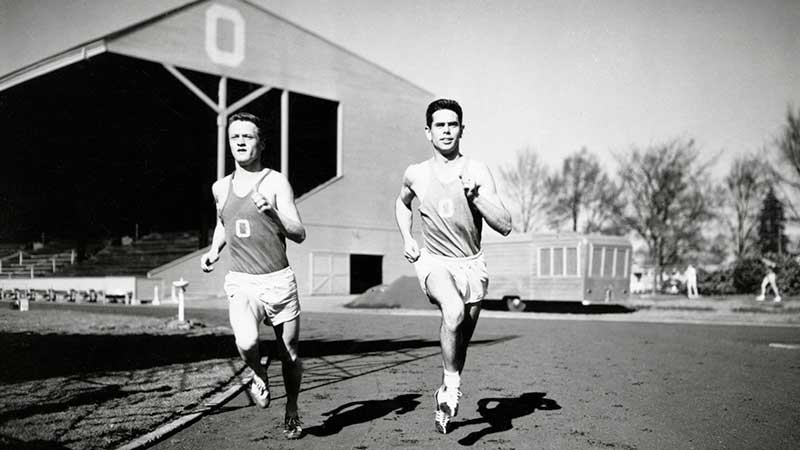 Hayward Field History
In its 100-year history, Hayward Field has become the nation's most storied track and field venue.
"It's like a mixture between the Bird's Nest and the Rose Bowl. It's awesome."
—Devon Allen