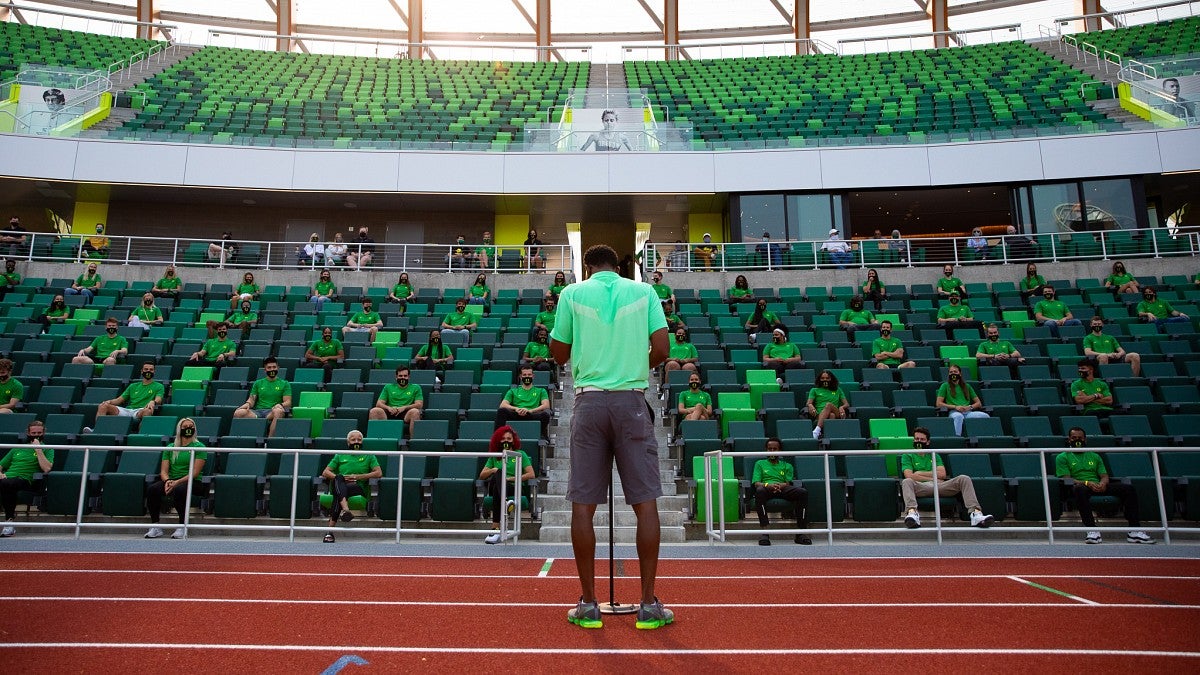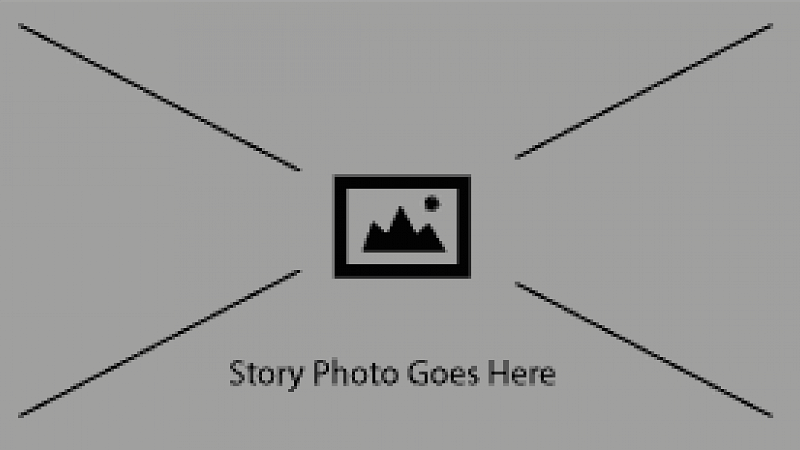 UO Track and Field Team Gets Its First Look at Hayward Magic
It's been more than two years since the last time the Ducks competed at Hayward Field at the University of Oregon. On June 9, 2018, Jessica Hull, BS '19 (human physiology) won the 1,500-meter title at the NCAA Division I Outdoor Track and Field Championships on her home track. Fewer than two weeks later, it was time to start building for the future.
The Ducks got a glimpse of that future on October 2 when they received their first tour of their new home, a newly renovated Hayward that is nothing short of breathtaking.
"A lot of work went into putting this together for our athletes," said head coach Robert Johnson. "If I look at the timeline, there's been a little over two years where our kids haven't had a home stadium at the University of Oregon."
Prior to the tour, the Ducks received temperature checks and Hayward-branded facemasks, and were then broken into small groups to facilitate physical distancing. Johnson addressed the student-athletes while they were in the stands, and announcer Paul Swangard, BA '90 (radio and television), MBA '99 (general business), instructor of advertising and sports brand strategy at the School of Journalism and Communication and track and field stadium announcer for the 2016 Summer Olympics in Rio de Janeiro, welcomed them back over the stadium's public address system.
"For generations, athletes have arrived to this site inspired to train and perform at their very best," Swangard said. "It is where legends were born and where millions of fans created the Hayward Magic. As the Men and Women of Oregon, you are now the caretakers of the finest track and field facility in the world. Be inspired, and more importantly, be inspiring. Welcome home—welcome to Hayward Field at the University of Oregon!"
From there, the groups were left to explore the renovated Hayward Field, a state of the art athletics arena worthy of the nation's preeminent track and field program.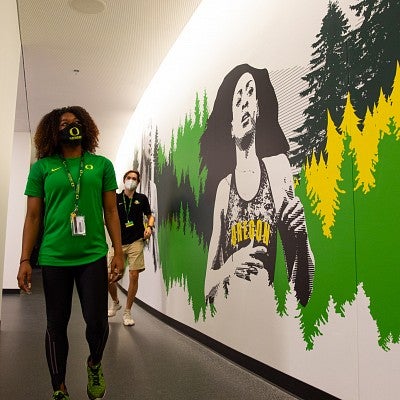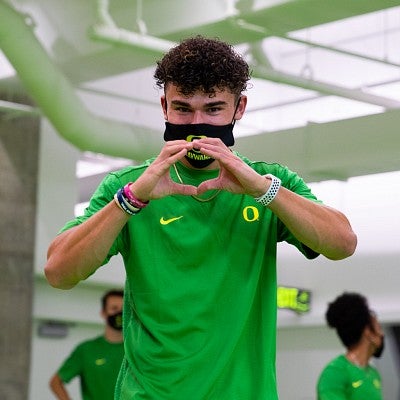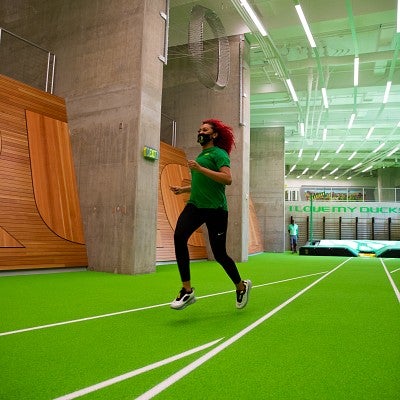 "It's amazing," said Ben Milligan, a senior high jumper from Portland who became the fifth Oregonian in history to break the seven-foot barrier as a high school senior competing in the Oregon Relays at Hayward, and as a Duck owns the second-best indoor mark in UO history. "Being a kid from Oregon and having Historic Hayward Field, it was tough to see it go down, but walking through today, it was fantastic. Everything is next level."
While coaches and athletes expressed immense gratitude to Penny and Phil Knight and other donors to the one-of-a-kind venue, Hayward Field creates a world-class theater for fans to experience the sport, as well. The front row of the stands is just feet from the outside lane of the track, so patrons will feel the sprinters and hurdlers racing past them. The seats themselves are wide, with comfortable seatbacks. Images of UO legends adorn the concourse exits. There are now two permanent video scoreboards, one at the north and one at the south end.
And while the fans are enjoying those amenities, the student athletes will be preparing for competition inside the stands themselves, with indoor warmup and training facilities, a weight room, a lounge, and even a barbershop.
"I'm thinking with all of this provided, you have to make history, right?" said senior sprinter Brianna Duncan. "This is dope. They made sure to accommodate for everybody and everything, and it's beautiful to see."
With Hayward Field now open for practice ahead of 2021, the Ducks are finally home again, and are looking forward to competing in the nation's best track and field facility, in front of the nation's best fans.
"Right now the track is empty but the sound is here," said senior distance runner Carmela Cardama Baez. "You can hear the fans. It's going to feel awesome and I've been waiting so long to have my race at Hayward Field. My first (track) year here in 2018, I didn't get to compete that much. Even as a junior back in Spain before I came to college, I just missed coming to compete here at the World Junior Championships in 2014 so I've been waiting for my big time at Hayward for the longest time. It's coming soon and it's going to be awesome."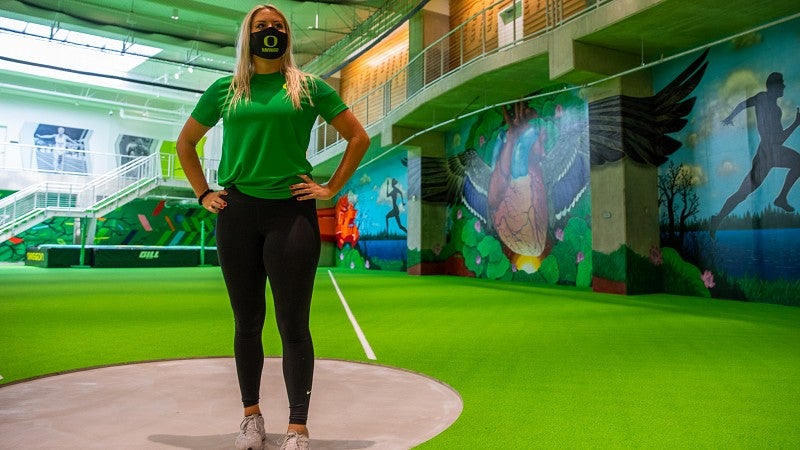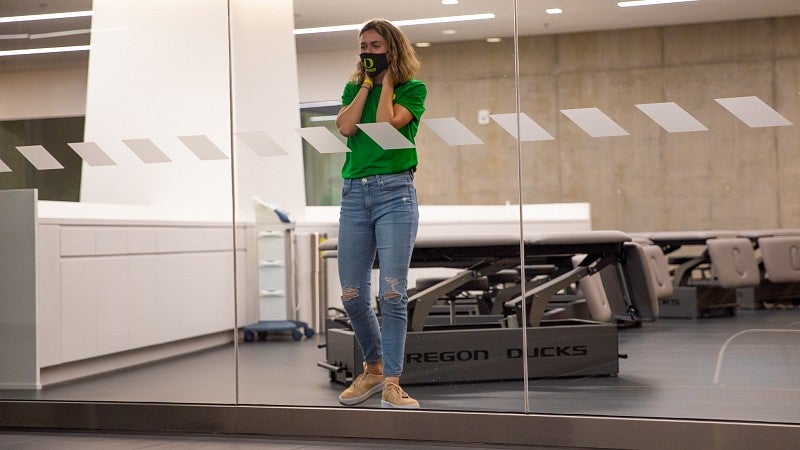 This is Hayward Field,
home of Oregon Track and Field
"When I was first walking on the track, I was already thinking about competing here. I just kept thinking 'I'm going to run here.' This is where (NCAA Championships) and the Olympic Trials are going to be. I can see myself in all those situations. I'm excited to start working."
— Brianna Duncan, Senior 
Cambridge, Mass.
"I think the coolest part is how they've integrated so much history into it. I see teammates from five years back and I just think 'wow.' Competing at Hayward Field is a different feeling than competing anywhere else."
— Ben Milligan, Senior
Portland, Ore.
"Right now the track is empty but the sound is here. You can hear the fans. It's going to feel awesome and I've been waiting so long to have my race at Hayward Field. It's coming soon and it's going to be awesome."
— Carmela Cardama Baez, Senior
Vigo, Spain