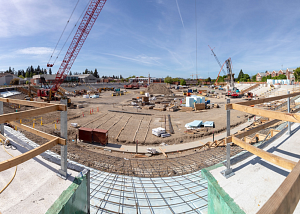 Excellence Taking Shape
In keeping with the University of Oregon's constant pursuit of excellence, Hayward Field is intended to be the finest track and field facility in the world. Crews have poured concrete for the entire concourse level, as the project takes shape in anticipation of opening in Spring 2020.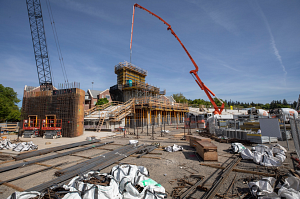 The Tower
Crews are pouring concrete for the tower at Hayward Field, one level at a time. Once each 14-foot layer of concrete cures, the forms are removed and lifted to the next level to be ready for the next pour. Crews prefabricate an extensive matrix of reinforcing bars at ground level on a prototype for safety and efficiency and then lift them into place on the tower before the actual forms are raised.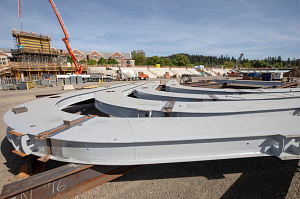 Top of the Stadium
In the area where the infield will be, workers are starting to weld the first four of the total 76 composite steel and glue-laminated bents that will eventually support a high-tech fabric roof covering. The tallest bent is 98-feet. Each of these structural pieces requires several full thickness welds to connect the 1- ¼-inch thick steel plate. A special 400-ton capacity crane, assembled from more than 20 truckloads of pieces itself, will position the bents into place in the air before crews attach an outer glue-laminated wood layer later this summer.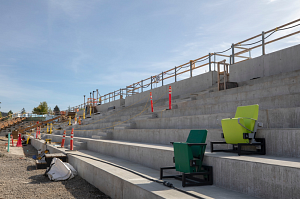 Seat Structure
Seats at Hayward Field will be very similar to these two prototypes. Spectators in the front rows will sit within a few feet of the action. All rows have an unrestricted view of the field and track and all seats have a generous minimum width of 22 inches, with legroom and cupholders.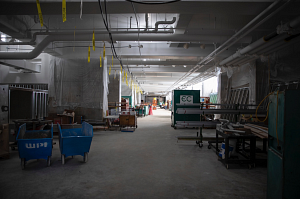 Indoor Training Facility
The UO's Human Physiology Department will have a garage-style door opening to a 140-meter indoor track under the stands on the southwest side of the stadium. The indoor facility includes areas for hammer and shot put throws, the high jump and pole vault, as well as locker rooms, a medical area, exercise facilities and other support services.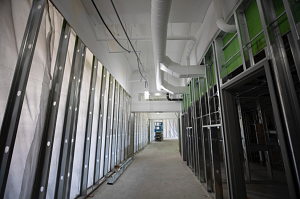 Finish Work Under the Stadium
Crews are currently installing steel studs and sheetrock in the lower portions of the stadium.